Sept 12 2023
Sept 1st 2023
The new MicroTraxx inspection robot is now in production. We are offering the complete robot system for $8,500 USD. The kit comes with everything you need to start inspecting right out of the box. The MicroTraxx is the most compact all-terrain inspection crawler on the market allowing it to fit into extremely tight spaces where others cannot. The MicroTraxx is primarily designed for general inspection but becuase of its extreme durability and small size we are also offering it for law enforcement operations and SWAT use. Call or email us for more information. (970) 568-9812, infolab@themachinelab.com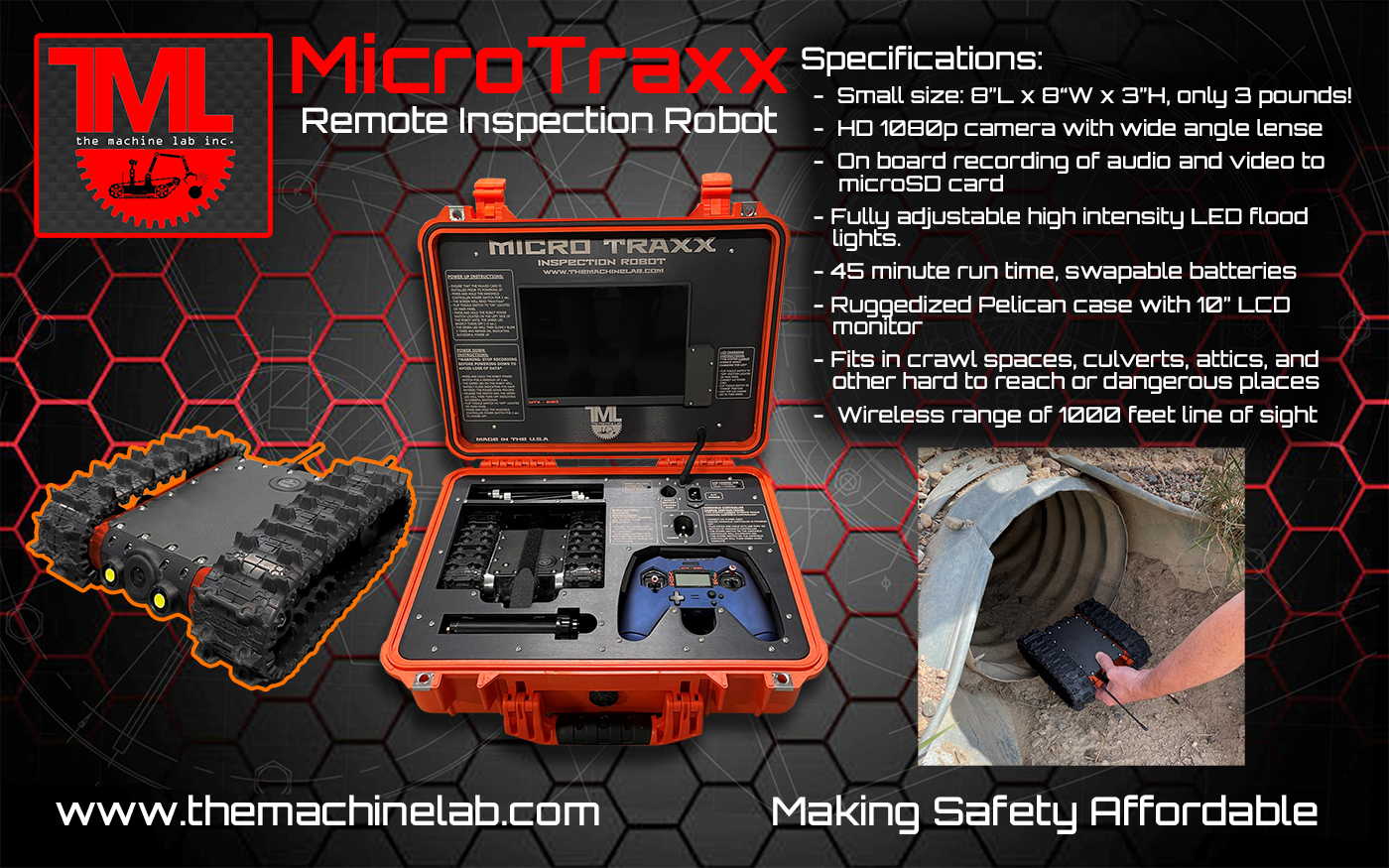 August 10 2023
We have completed a short production run of our 6-axis manipulator arms. These arms are available with or without position feedback. Please email or call for details or customization.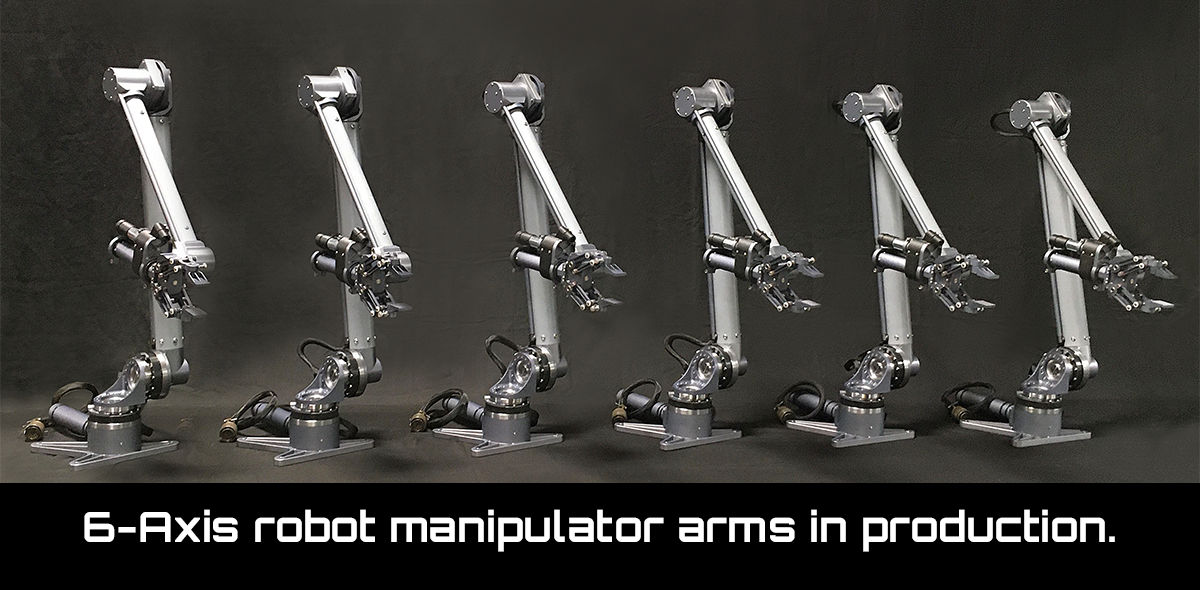 June 19th 2023
This is the new MicroTraxx inspection robot from The Machine Lab. The MicroTraxx is a super compact inspection robot that weights 3 pounds and at only 8"L x8"W x 3"H it can fit in extremely tight spaces to get the video you need. The MicroTraxx has 1080p high definition recording capabilities for crisp solid video collection.
Take a peek at our new Brute series mobile robot platform. This tracked robot base was developed for industrial, commercial and agricultural applications. The platform weighs 90 pounds and can carry an additional 100 pounds of payload over various terrain.
May 24th 2022
We have started production on our new GLIMPSE residential and commercial inspection robot. This robot is ideal for inspection, surveillance and even tactical operations. Please see the video for more information and contact us if you are interested in pricing and lead time.
Robotshop is now a reseller of our products. Please check them out here!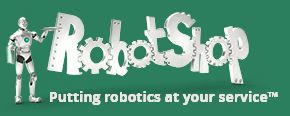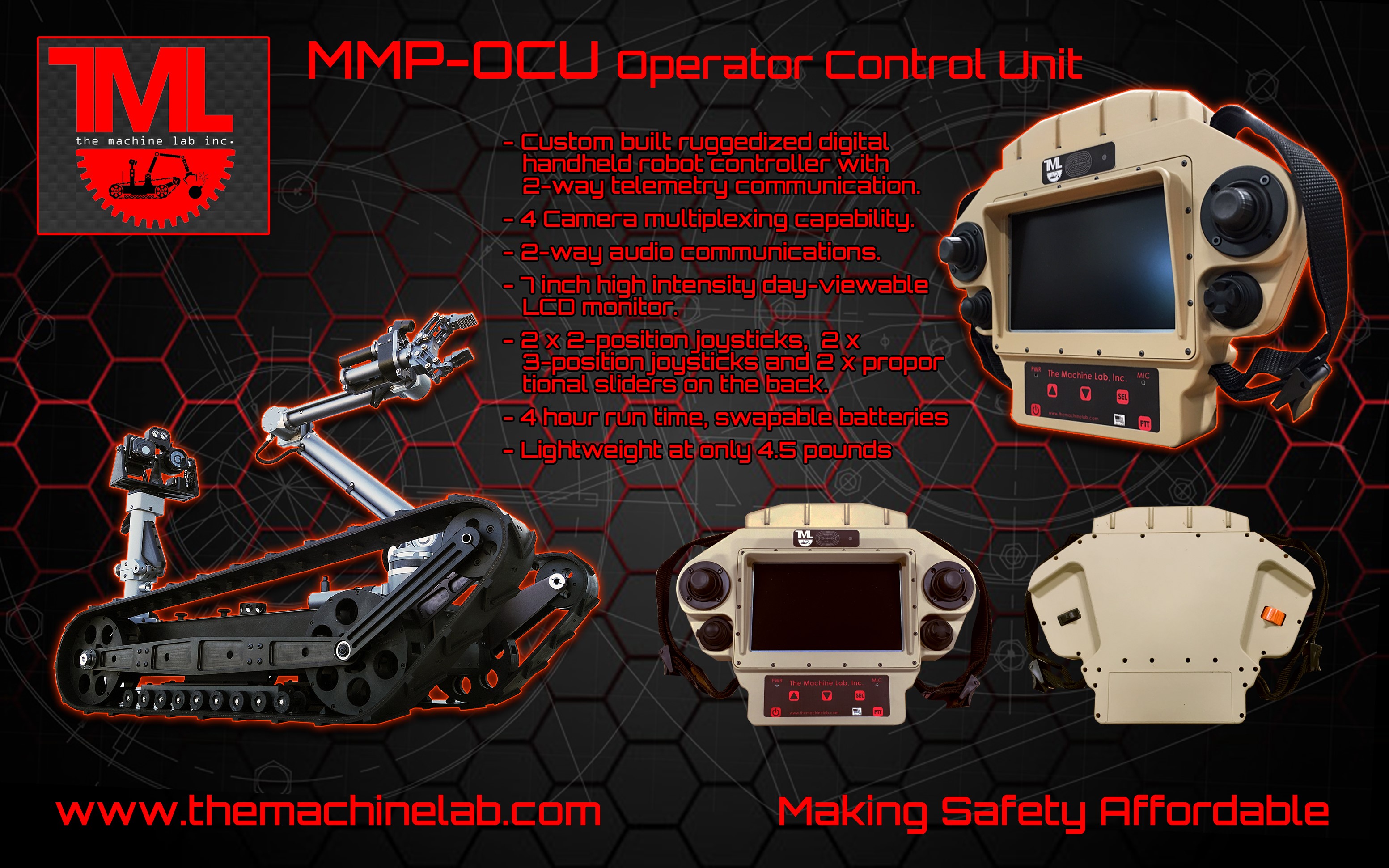 September 1st 2021
Introducing our new handheld EOD robot controller. This control system was built from the ground up in order to create an OCU that is cost effective, reliable and rugged. It has many features that allow it to be adapted to any of our robot platforms. The handheld OCU works on 2.4 GHz for control and 5.8 GHz for audio and video. It has 16 channels of control, a day-veiwable 7" LCD screen, 4 joysticks, 2 sliders, mixing, mapping, custom menus and a rechargeable battery pack. Contact us for pricing and availability.
June 27 2021
Introducing our new MMP-40X-EOD robot system. This tactical robot is the most capable of any of The Machine Labs products. The robot weighs only 100 pounds and it has the ability to climb stairs, lift 20 pounds at full extension, see in total darkness, receive audio and carry an additional payload of 20 pounds. Options include a FLIR thermal camera, optical zoom camera, gripper tools, LED flood/spotlights and disruptor mounts. We also offer our new digital handheld controller as an option. The standard unit comes with a ruggedized Pelican OCU, 6-axis arm, pan/tilt foldable boom and 3 cameras. This system is extremely affordable and can be used for many research, law enforcement, surveillance, EOD, and military applications. The Machine Lab prides itself in quality, cost, delivery lead times, and customer support. Contact us for pricing and availability.
July 2nd 2020
Zack Bieber founded The Machine Lab, Inc. twenty years ago in southern California where he worked out of his one-car garage. Since that time in 2000, the company has grown exponentially. What started as a single engineer building one-off tactical robot systems for local law enforcement has evolved into a company with the ability to complete large multi-million-dollar government contracts. TML often deals with orders for hundreds of robot systems at a time that are delivered primarily to different sectors of the United States Military. TML has also designed and built dozens of custom robot systems for other notable organizations such as NASA, Honeywell, BAE Systems, and Raytheon, and numerous major universities worldwide.
We currently have over 2,200 robots in action across the globe. TML's flagship product, the MMP 30 EOD robot, is responsible for the majority of TML's sales and has been integral to forming the company's respected reputation. TML has put a lot of research and energy into making the MMP 30 EOD one of the most reliable and cost-effective EOD robot systems on the market. The MMP-30-EOD has loyally served and protected the men and women that use this unique tool in life-threatening situations. The Machine Lab R&D team is continually developing new ideas and designs to keep up with an ever-changing list of applications that can benefit from this technology. The company is very excited to reveal a new line of innovative products over the next 18 months.
The Machine Lab prides itself on being a small, agile company that can quickly generate unique and effective solutions to problems that ultimately save lives on the battlefield. Our entire crew would like to thank our many customers, both repeat and new, for their challenging opportunities and continued business.
May 13th 2020
The Machine Lab completed a contract for 257 MMP 30 EOD robots and 100 spare parts packages for an international defense company in 2018 over the course of 14 months, one month before the contract deadline. The completion of the contract pushed the total number of TML's EOD robots in action to over 1,600. Since then we've developed a new line of products, which we are planning to release throughout the year of 2021, and have licensed three inventions to several major international companies. We are open to inquiries about our customization and design capabilities.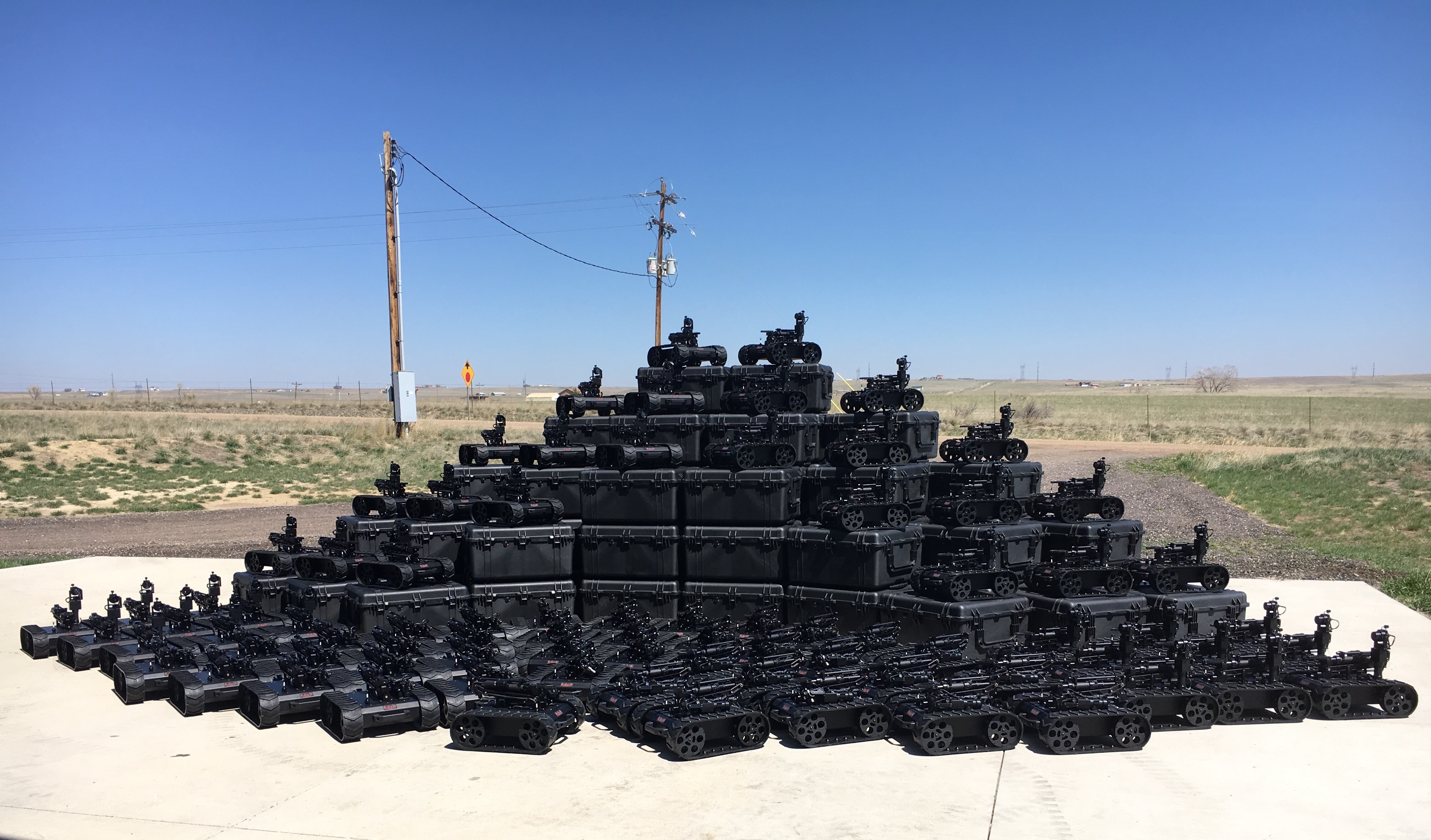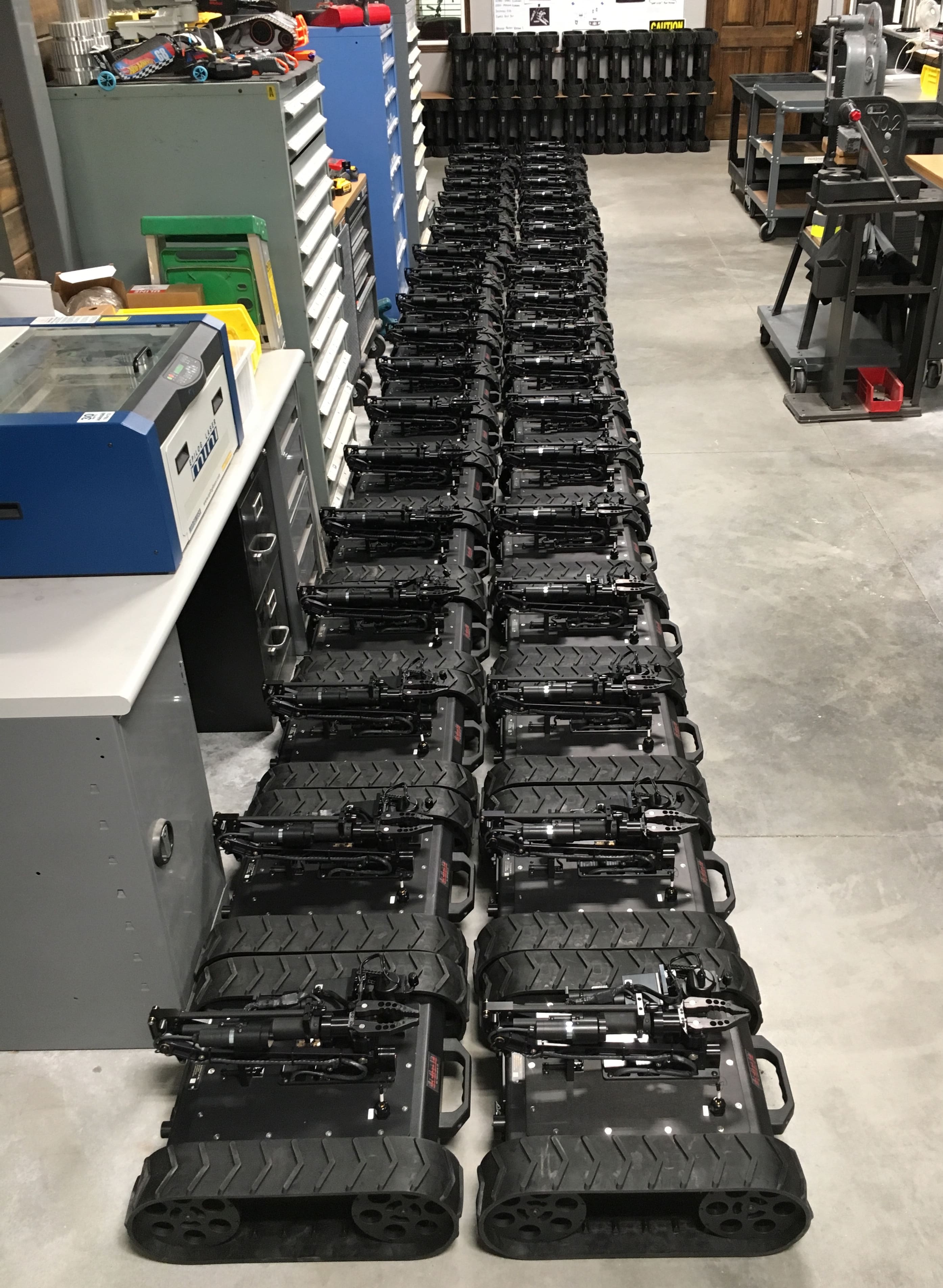 October 2018
We are proud to announce that Midwest Motion Products is now one of our premier DC gearmotor suppliers. Please check out their extensive line of high quality American made motors and gearheads at midwestmotion.com.
Be sure to check out their featured products.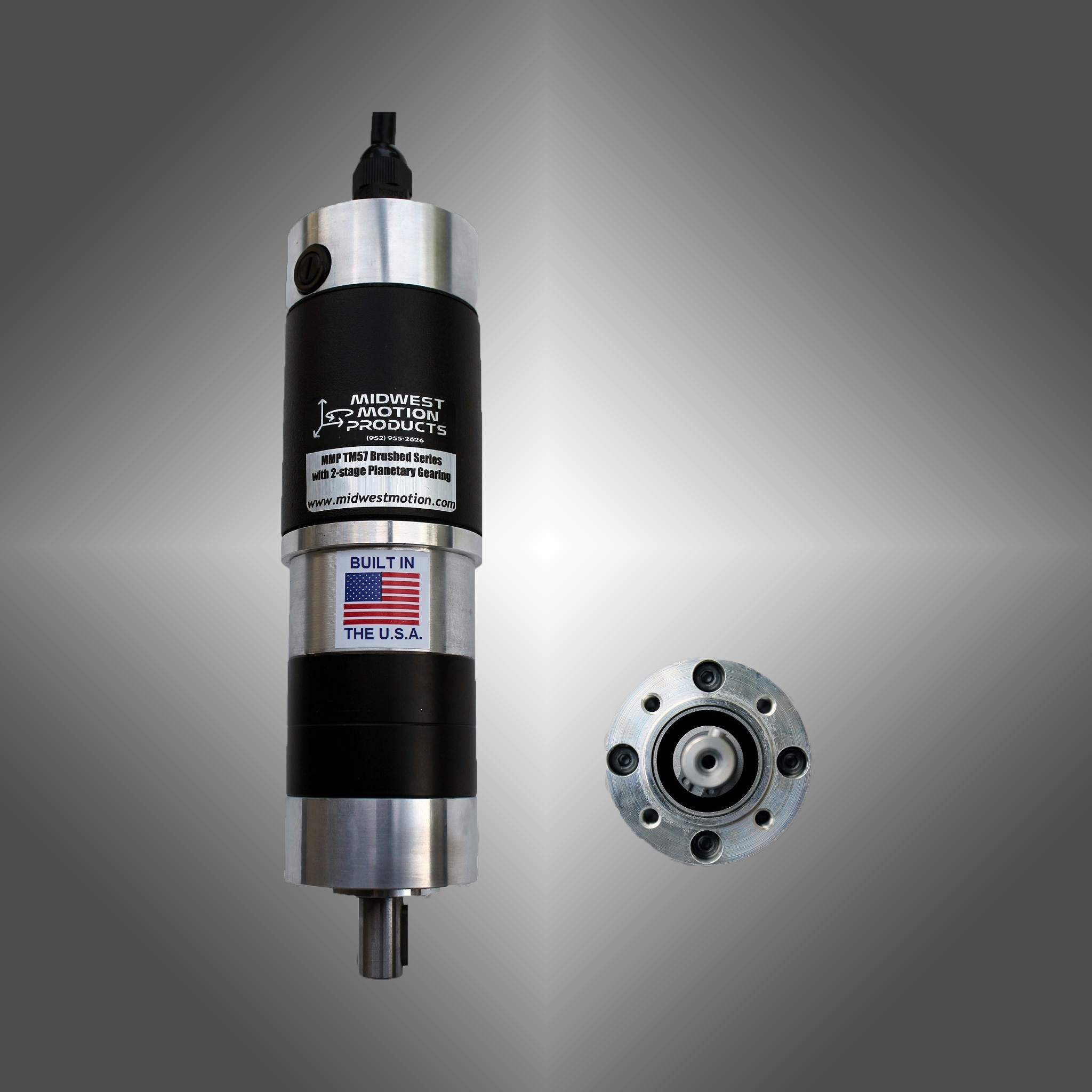 August 2017
Motorized track pods are now available to get your project rolling.
Click here to visit the Robot Marketplace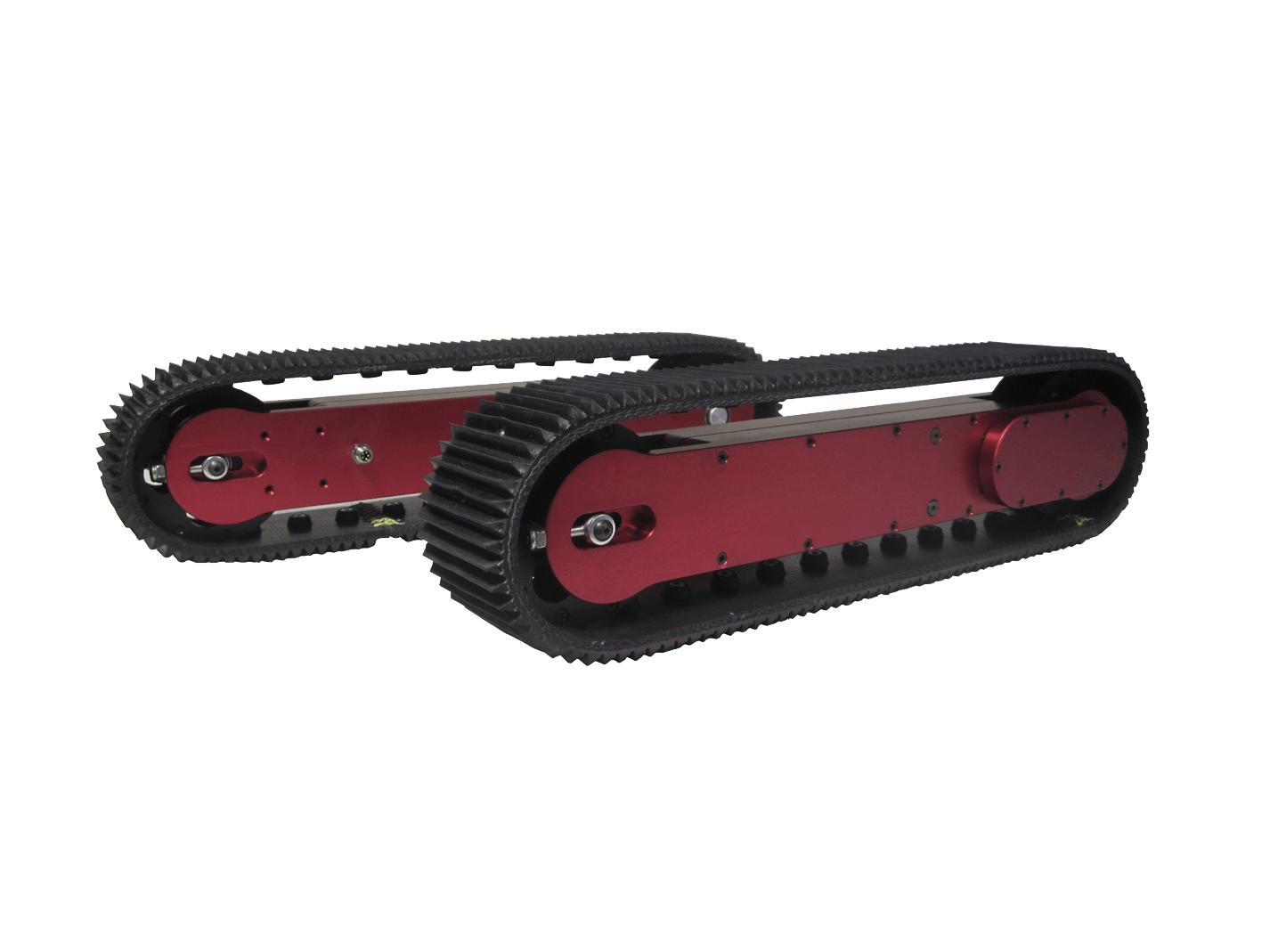 July 2016
We've been working hard on a new order of 150 MMP 30 EODs for the military, putting our total number of robots in action at over 1300.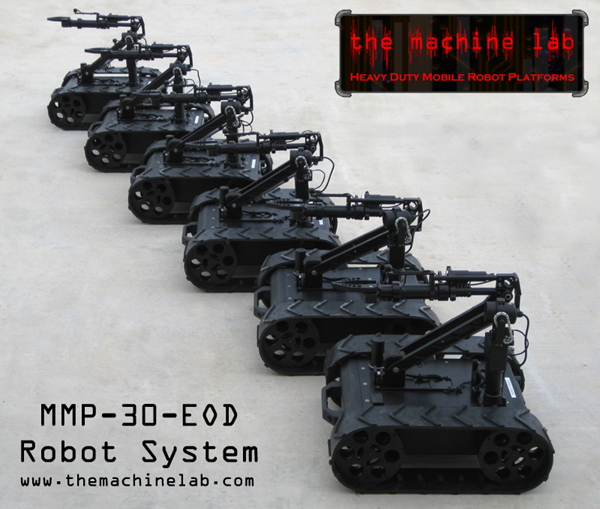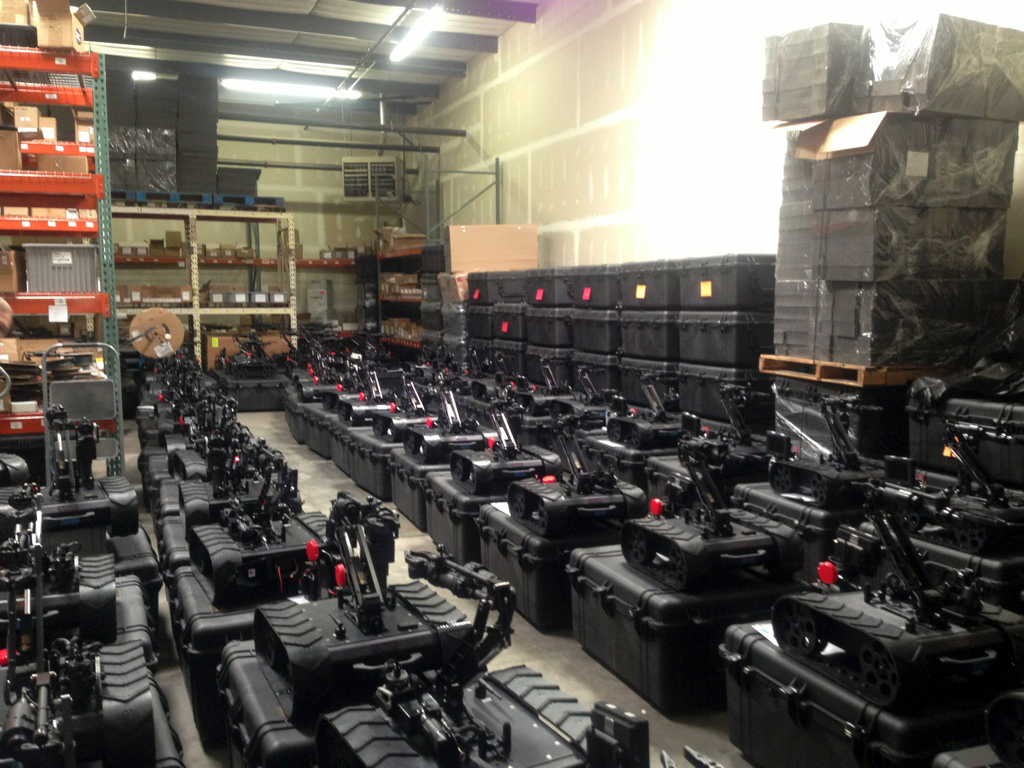 April 2016
The Machine Lab just finished filming season 2 for TV show Battlebots with an upgraded, new and improved, more vicious version of Razorback. Click Here to check out the Razorback blog, and don't forget to check out our Facebook page.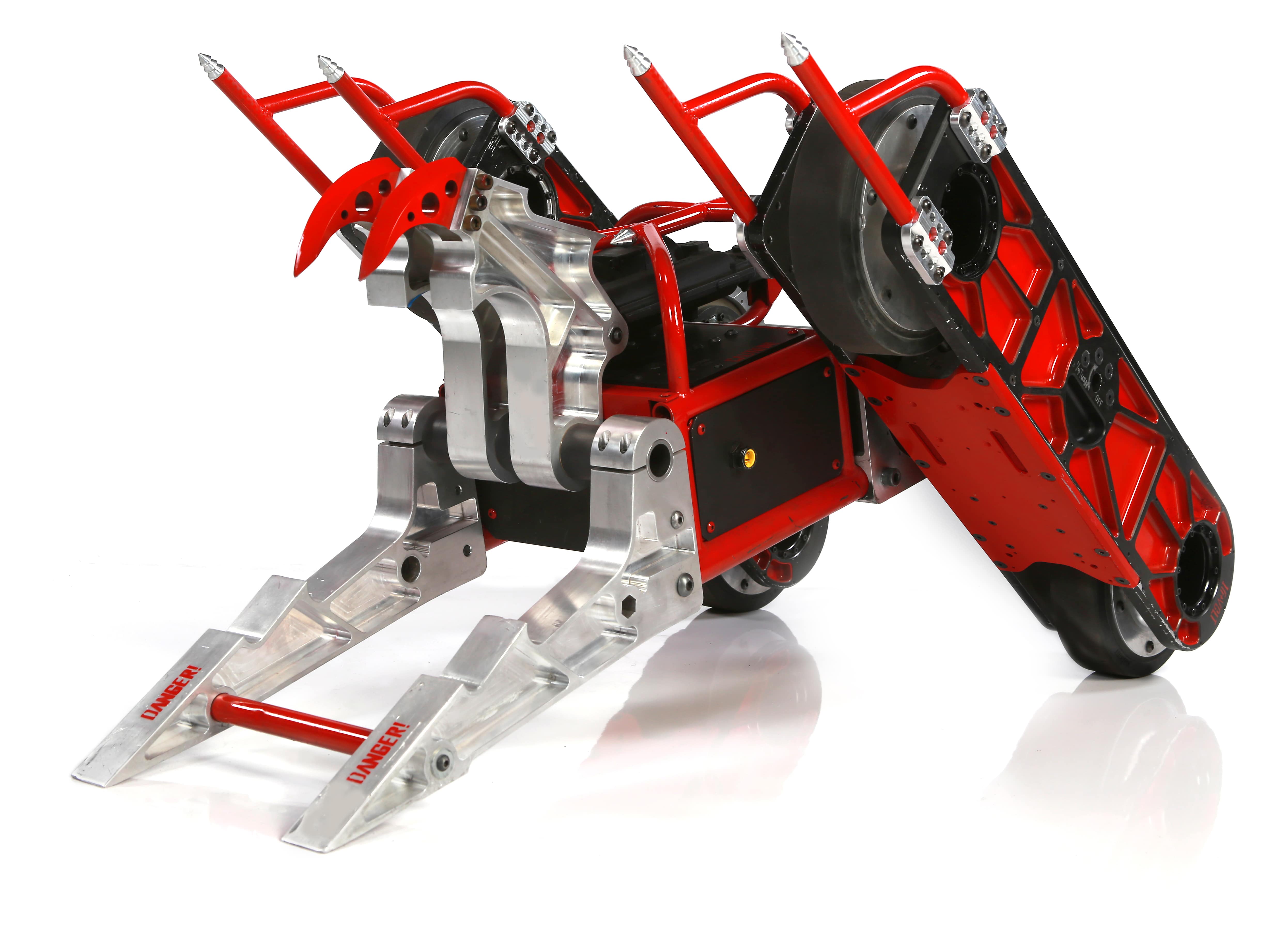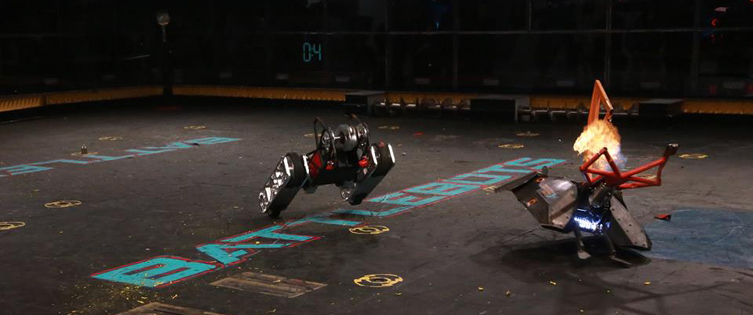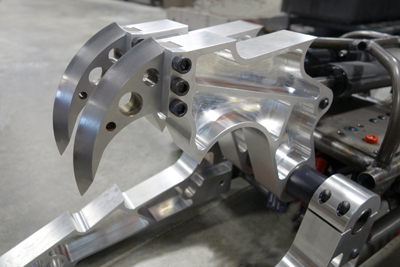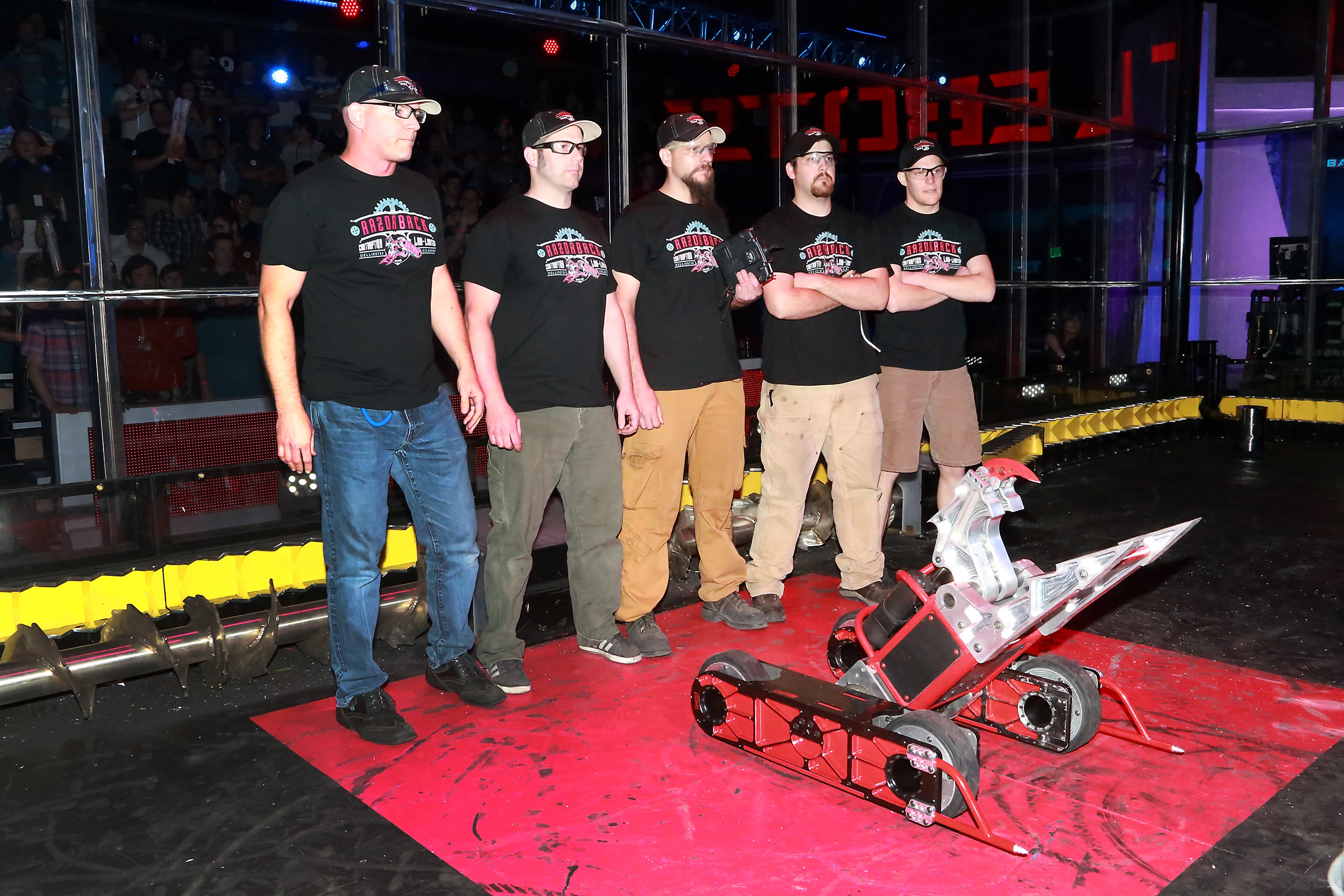 June 2015
The Machine Lab has been very busy lately. Not only do we continued to manufacture our EOD and Tactical robot systems for the military and law enforcement, but we have also focused our energies on several custom projects. The Machine Lab has completed several diverse projects in the areas of toy invention, semi-autonomous mobile robot platforms, robots that have filmed wildlife in the arctic, robots that clear debris from rooftops, custom multi-axis robot manipulator arms, and even robots that have appeared in television shows. We have also built a brand new industrial facility to merge our production and prototyping shops.
The Machine Lab just finished competing in the newly reinvented television show BATTLEBOTS with a wicked new mechanical creation called RAZORBACK. The TML crew displayed their level of design and fabrication expertize with this awesome machine.
Another project that we completed was a custom tracked platform for a research company in the UK. The machine could be controlled autonomously by an on board laptop via USB while giving an operator to have uninterrupted manual control of the robot.
We outfitted the mobile platform with custom dual pan/tilt mechanisms for multiple sensors and cameras. The platform also has a modular prototyping deck for electronics and the laptop.
Our engineers wrote the code and designed the electronics for the dual control system and sealed the electrical components in waterproof housings. The robot was equipped with enough battery capacity to run for 4 hours continuously.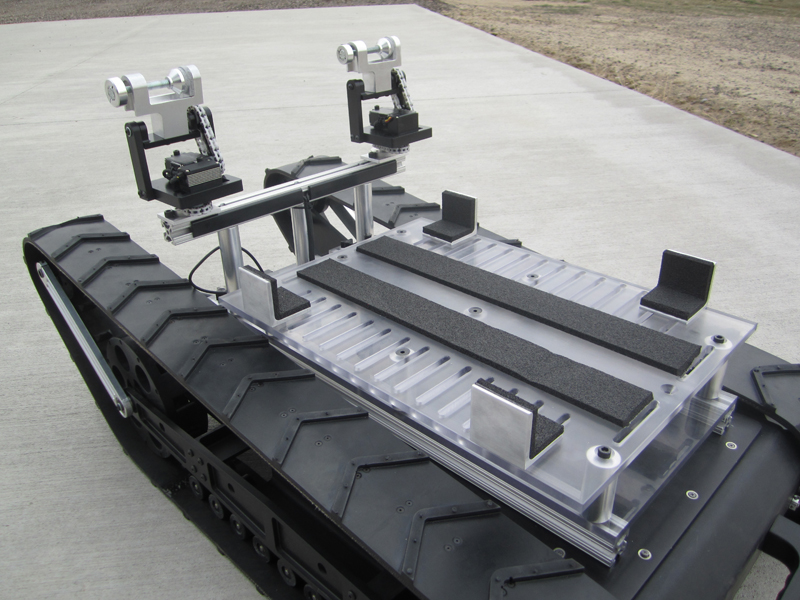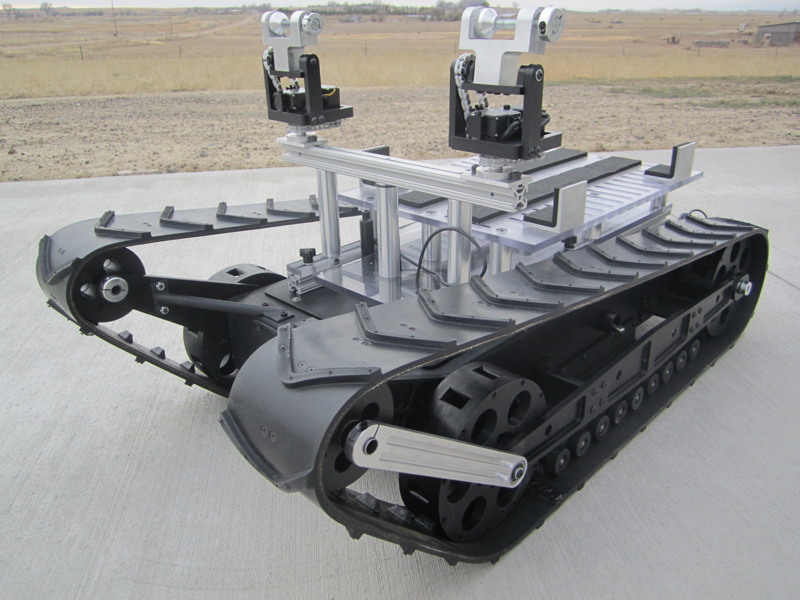 We engineered this custom robot platform to carry a mechanized debris clearing blower which cleans residential and commercial building rooftops. An operator controls this robot remotely. It has as a wireless video feed from a forward facing pan/tilt camera and a rear facing camera.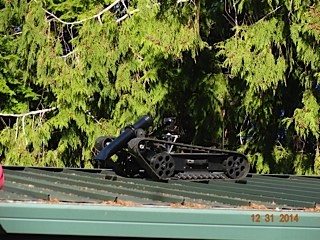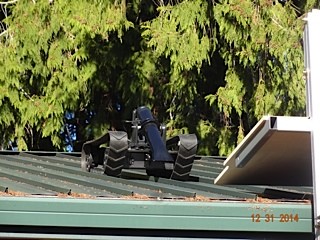 The NBC television show State of Affairs used one of our MMP-40X-HD Tactical robots as a bomb robot used to search a building for explosives. It appears in  Season 1, episode 10 titled "The War at Home."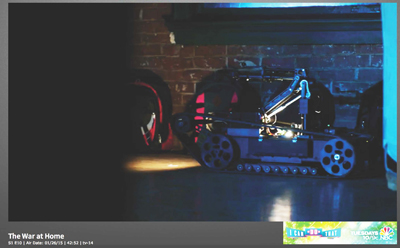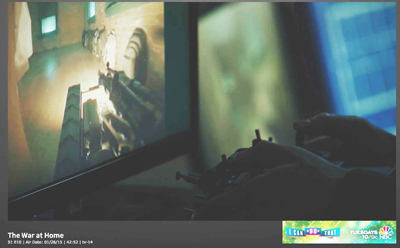 A custom long range MMP-15 was built for McAllen Police Department in Texas.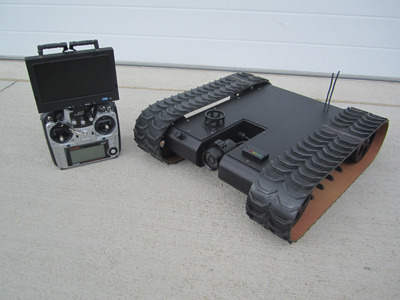 TML built several mobile robot platforms for a TV network in the UK that used them to film penguins in the arctic. We modified these robots to endure harsh environmental conditions and operate for extended amounts of time on a single charge.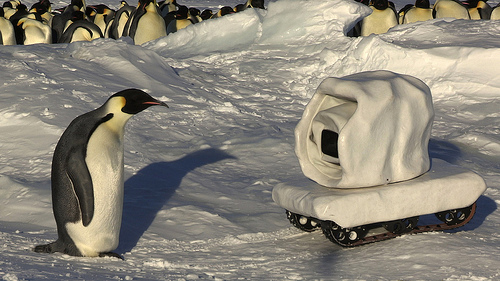 TML also recently built 12 of our MMP-30-EOD robots for the Department of Defense.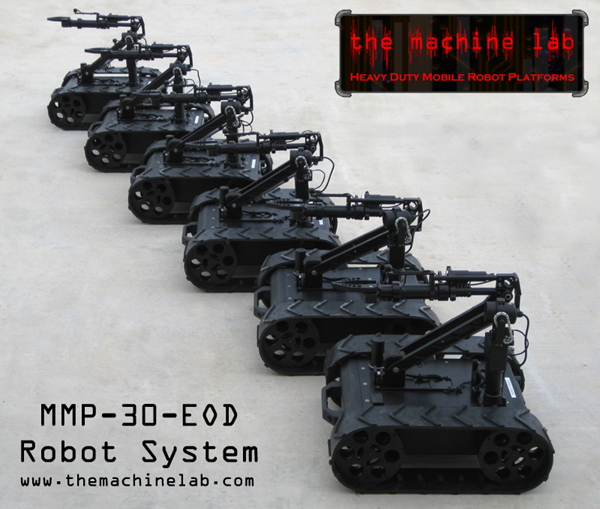 An update has been long overdue, but The Machine Lab is at the height of production here in 2013. TML, Inc. has not only secured another military contract through NAVSEA but has also recently completed multiple orders placed by the US Army and Raytheon. The NAVSEA contract will continue through to mid 2014 and will have enabled us to put over 1000 of our MMP-30-EOD robots into service.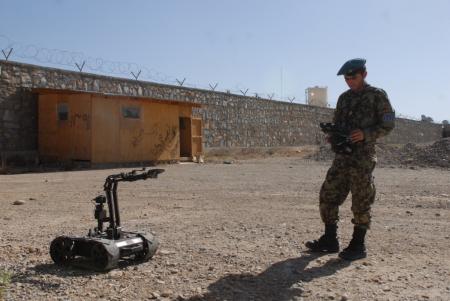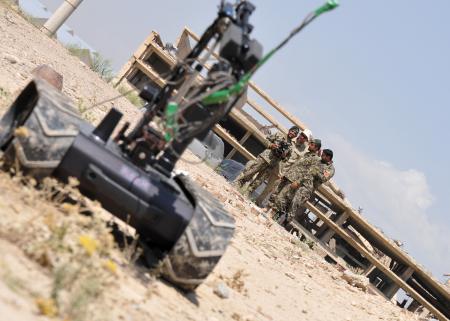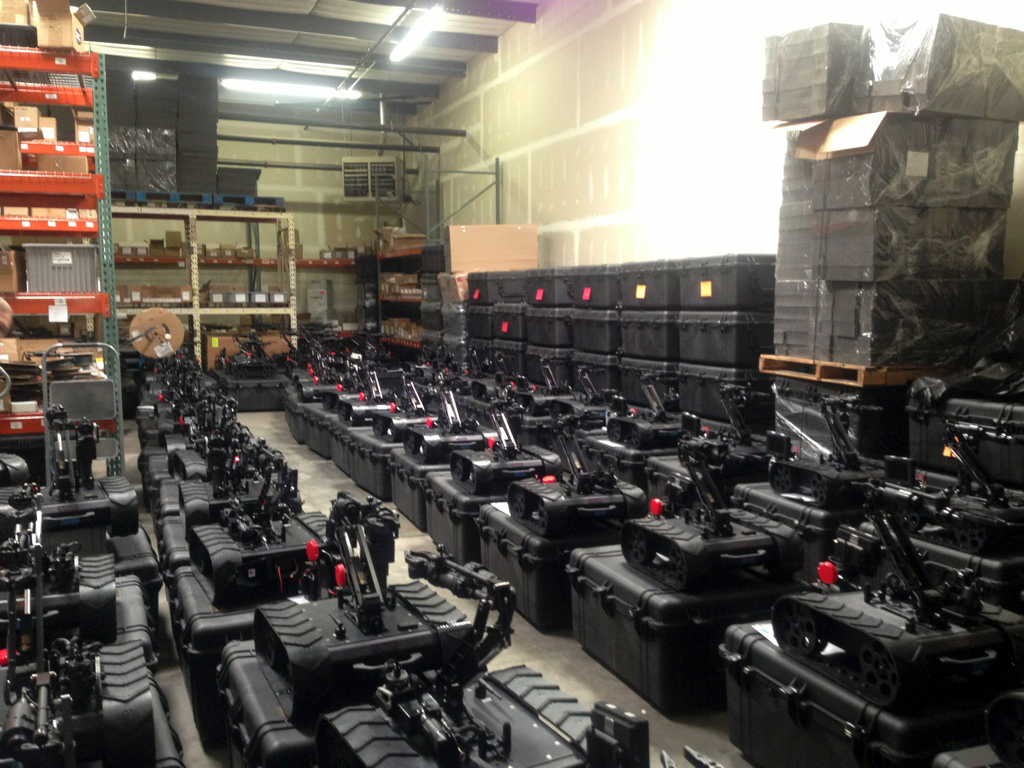 TML, Inc also continues to grow our prototyping facility where we design and fabricate custom machines for a multitude of applications. Our team has created devices used in environments ranging from hostage negotiation to the filming of penguins in the Arctic.
Here is just one of the custom jobs completed by TML's prototyping lab. We built this robot for the West Covina SWAT team in Southern California. It has a 5 axis telescoping arm that can extend over 4 feet from its original length and can lift 15 pounds fully extended, able can reach a total height of almost 6 feet. The gripper is accompanied by a 220X Zoom/Pan/Tilt camera and a wide angle gripper-focused camera and a retrieval hook. There are several detachable tools that the gripper can grasp or be manually attached in a matter of seconds.
The custom Operator Control Unit has true hot swappable batteries, a built in battery charger, 2-way audio with blue-tooth headset, 4-camera quadplexing and dual 3-axis joysticks for arm control. This allows the operator precise control control of all the arm joints simultaneously. This robot can climb stairs and see over a privacy fence. It weighs in at only 125 pounds and has a speed of 3.5 ft/sec. It has a run time of approximately 4 hours depending on mission profile and can be deployed in less than 1 minute.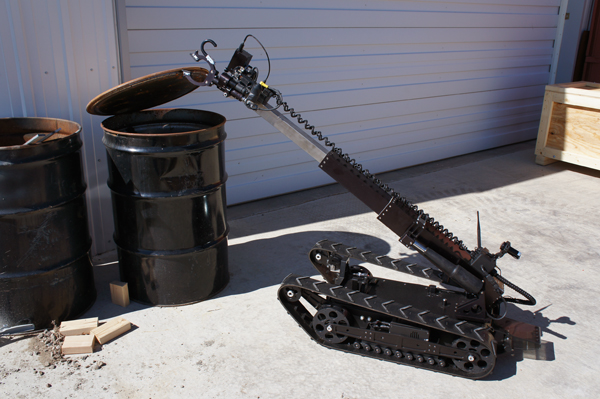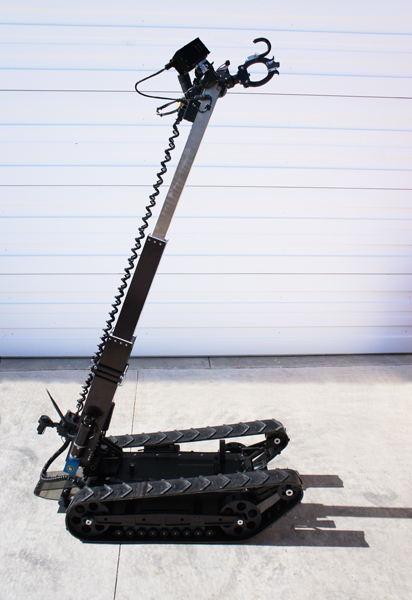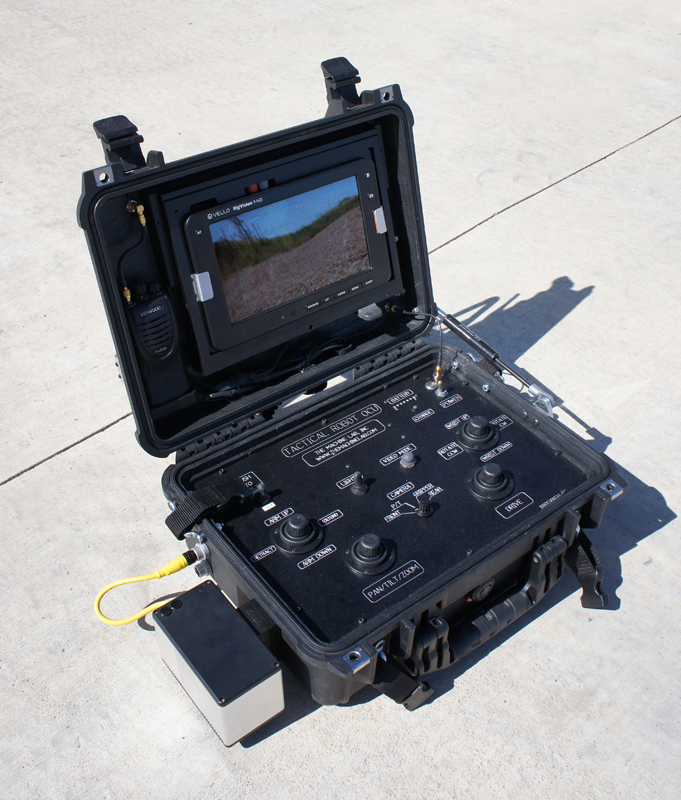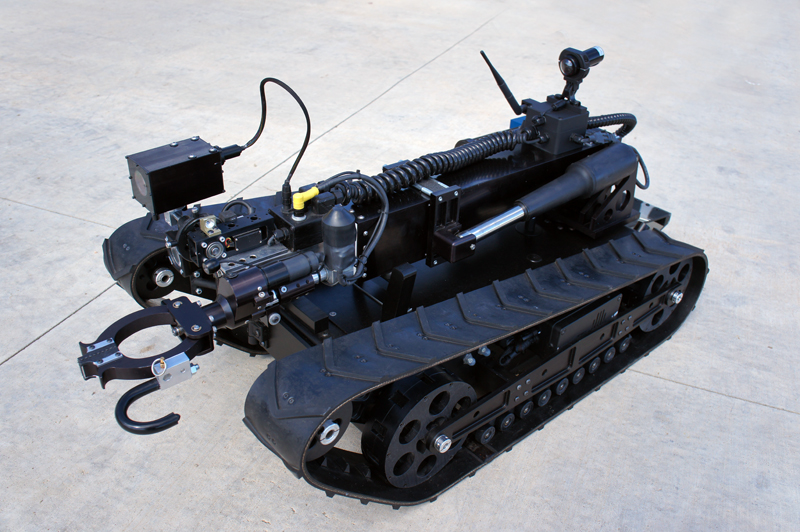 The Machine Lab's prototyping facility has also designed a proprietary new shape changing track that enables this mobile robot to traverse through even rougher terrain than the standard MMP-40X. Besides increasing platform mobility, the remotely reconfigurable track facilitates greater finesse and balance when ascending or descending stairs. An operator can proportional control the track who may want to achieve a very specific angle, or they can automatically change their geometry according to pre-programmed positions with the simple push of a button. The tracks can be actuated independently or in unison.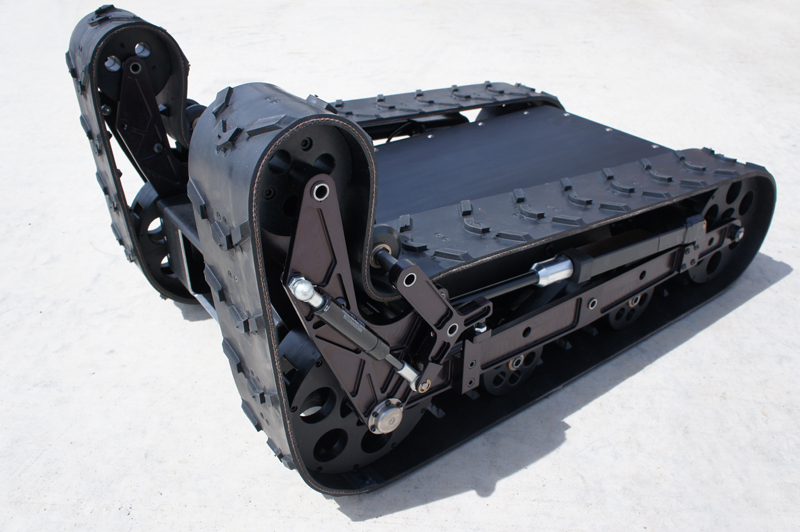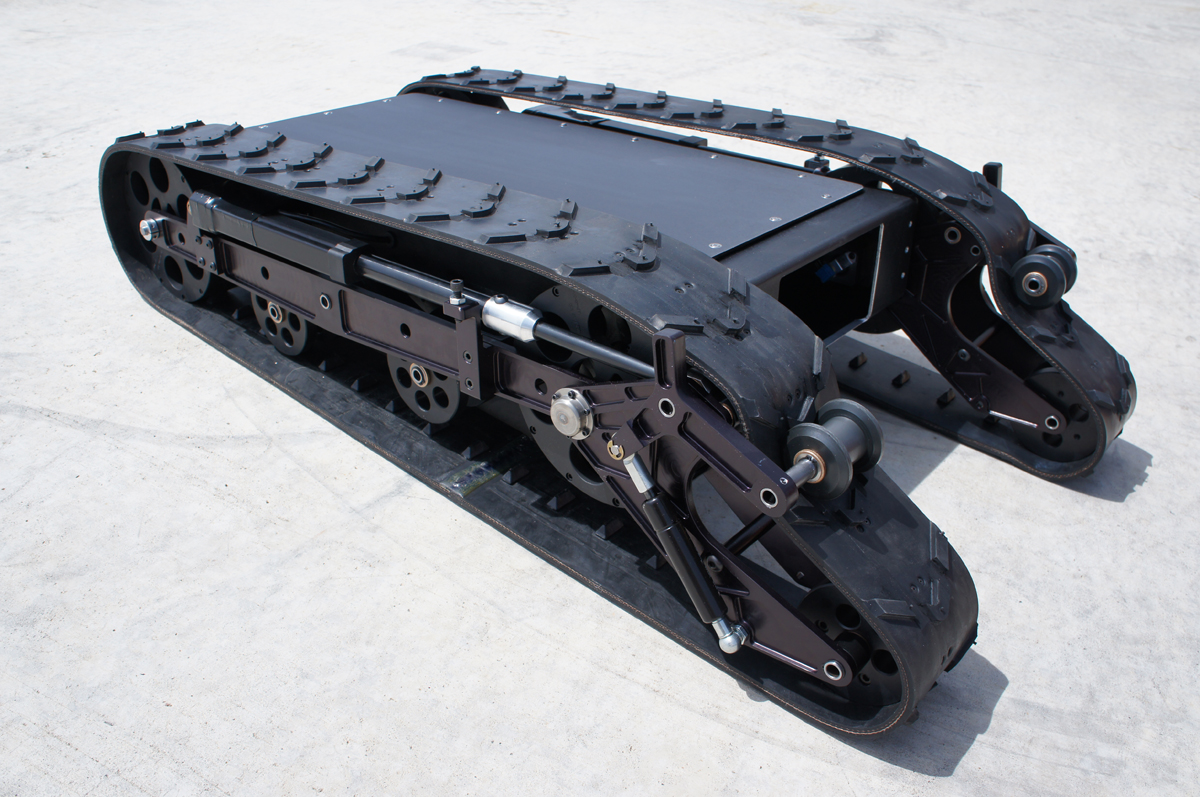 July 2012
The Machine Lab, Inc. has been working diligently fulfilling an ongoing military contract with NAVSEA (Naval Sea Systems Command) and their Naval EOD Technology Division through 2016.
Currently, The Machine Lab has over 500 of our MMP-30-EOD mobile robot systems in theater in Afghanistan and surrounding areas. Our simple yet reliable mobile robots are being used to combat terrorism every day. Our robots have been in use in Afghanistan since November 2009 by independent contractors as well as the US and Afghan Military.
Everyone here at The Machine Lab feels proud and appreciative to have the opportunity to help our men and women in action with our products.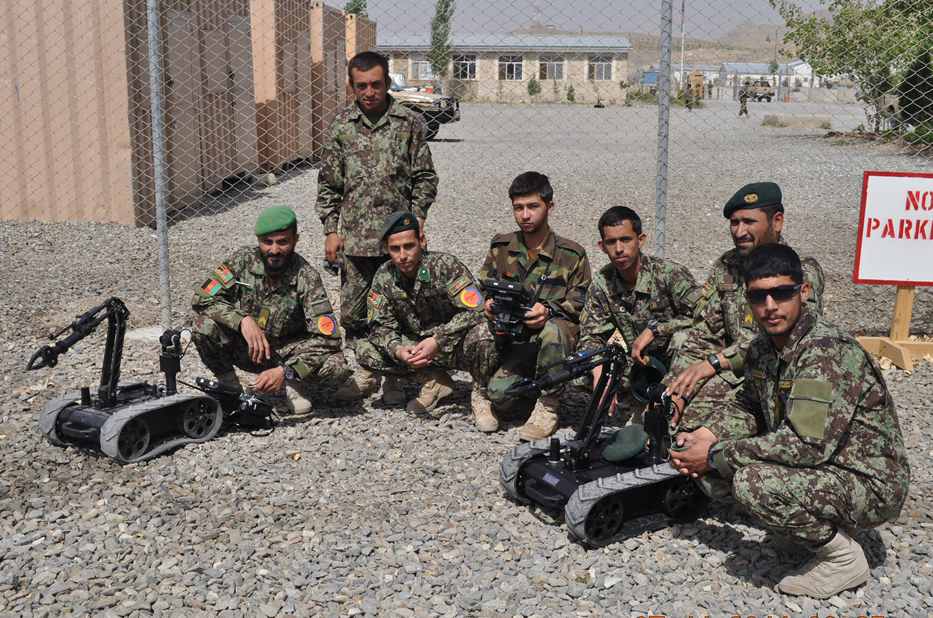 Northern Colorado Bomb Squad robot for carrying hazardous gas sensors. Features include 8 foot telescoping surveillance mast, thermal 200X zoom and IR cameras, 2-way audio, remote release trailer and custom operator control unit.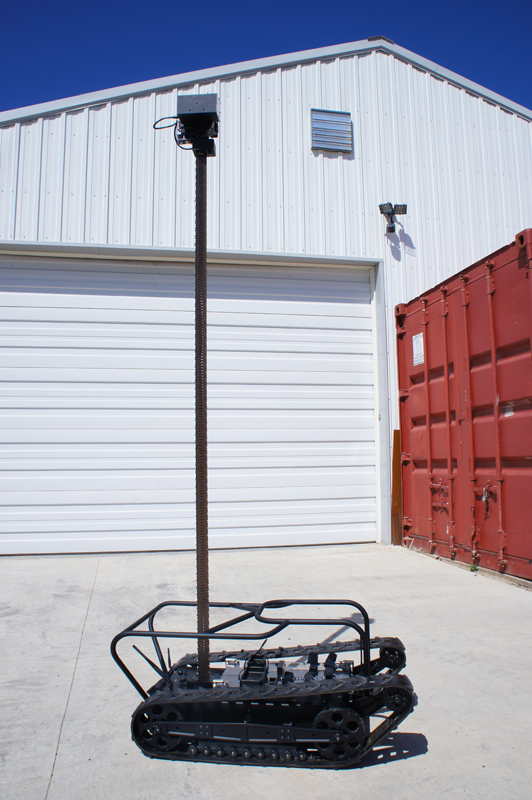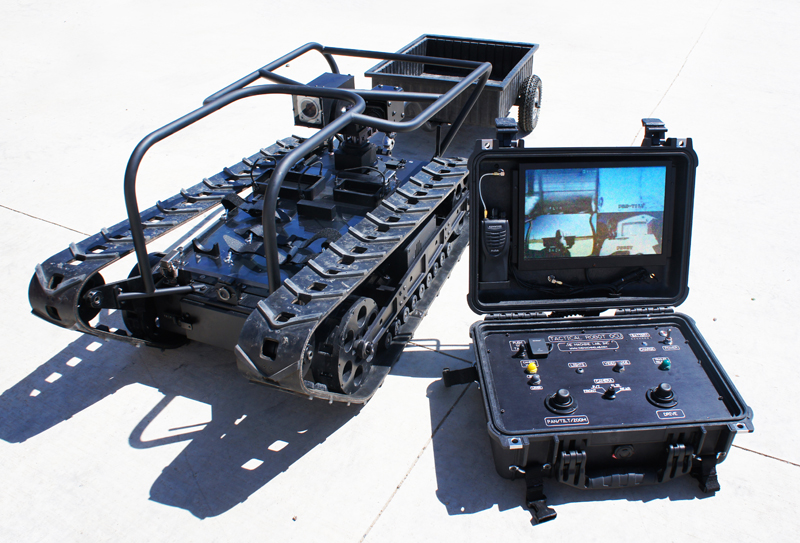 The Machine Lab, Inc. now has 2 facilities in Northern Colorado. We have one production facility purely dedicated to the production of our MMP-30-EOD robot systems. The other facility is a prototyping department which continues to produce custom US Law Enforcement robotic systems, Minefield Brush Clearing Machines, Entertainment Robots, Products for the Toy industry and a myriad of other creative business endeavors. We have even built mobile robots that have filmed penguins in the arctic.
We pride ourselves in our diversity and we maintain a very concentrated dedicated crew of multi-talented individuals.
Killdozer, festival performance robot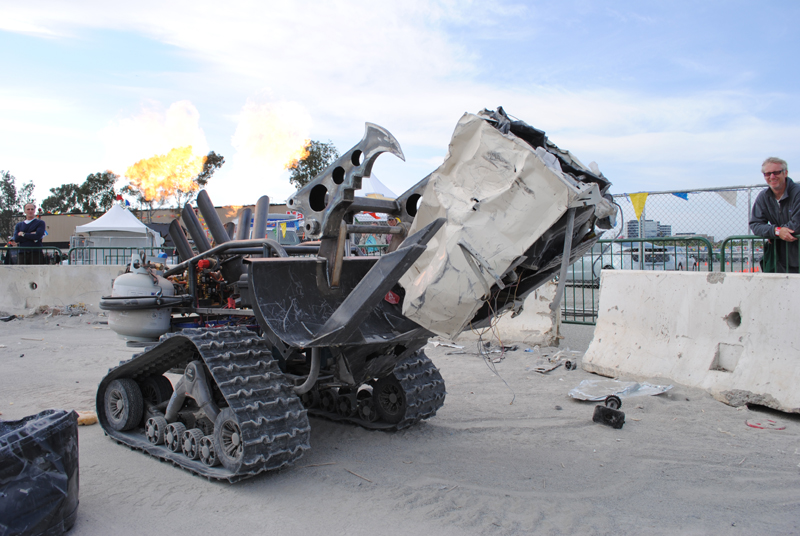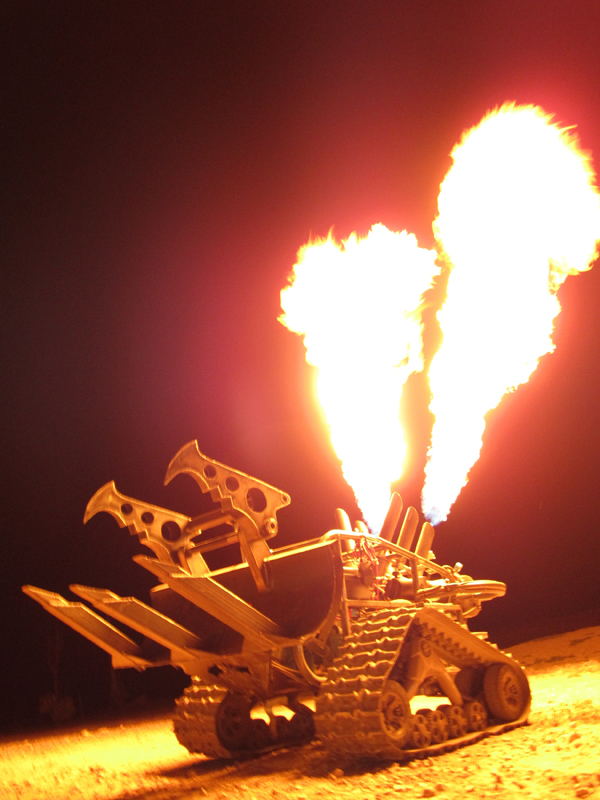 Typhoon 9000 is a 1200 pound brush clearing robot for reducing vegetation down to 2 inches height in active minefields. Features include 2500 RPM 8 hp electric flail cutter/mulcher attachment, 4 camera drive system, hybrid gasoline/electric power system and low ground pressure track drive.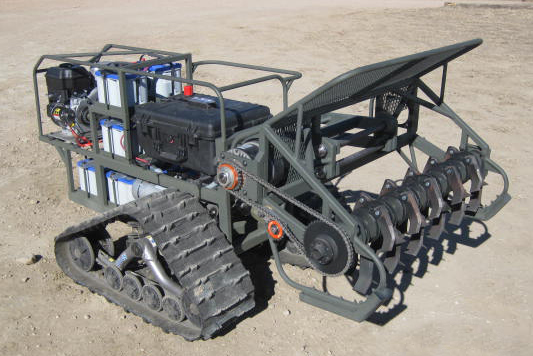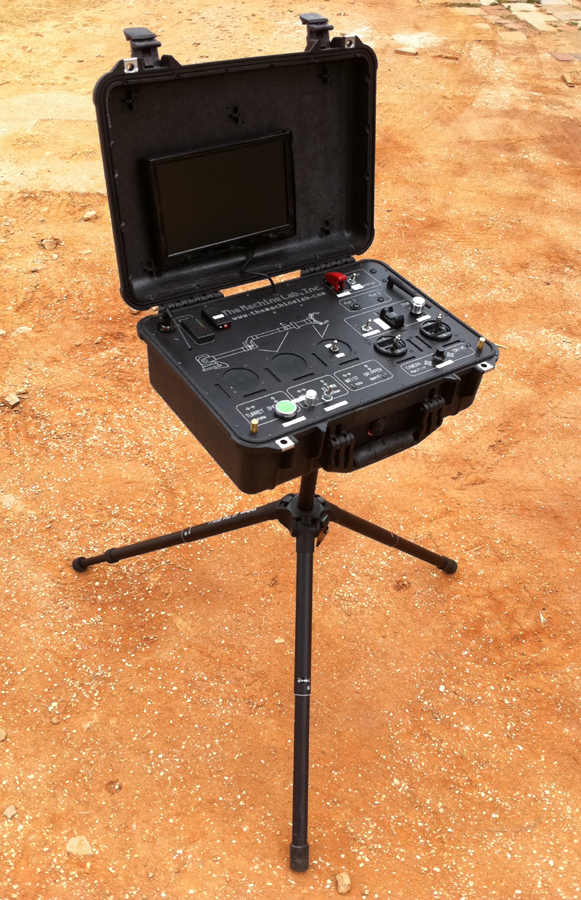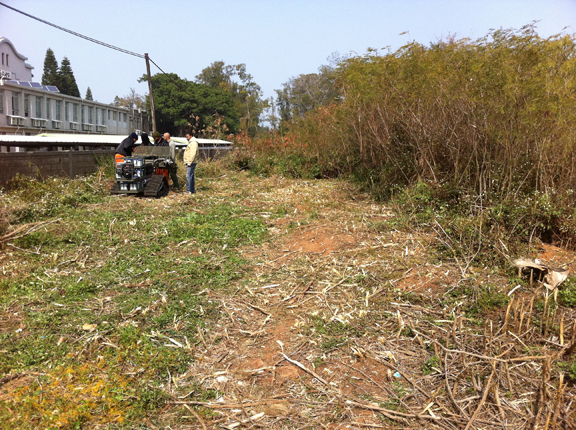 July 2010
In July 2010 the US Navy awarded The Machine Lab, Inc. another contract. We have been increasing production to deliver another 90 of our back-packable MMP-30-EOD robot systems, which will be deployed in Afghanistan.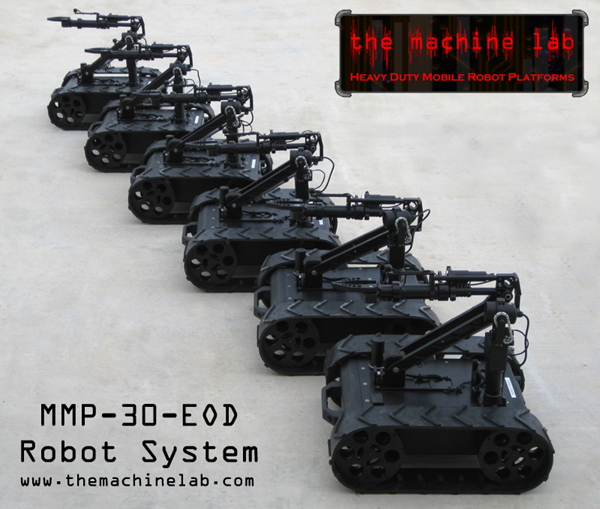 In August 2009 a 2.4 million dollar contract to build over 100 MMP-30-EOD units was awarded to The Machine Lab., all 100 of which will be delivered to Afghanistan by 2011.
We are doubling the size of our facility to increase our in-house fabrication abilities.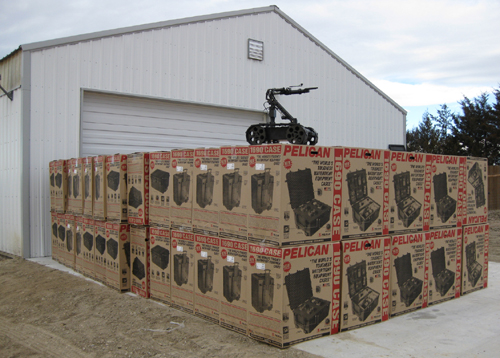 The Machine Lab, Inc. just finished 35 complete surveillance robot systems for an international customer. We customized these units to adhere to military specifications. They are IP-65 weatherproof and they use a new Lithium battery chemistry that allows them to drive continuously for up to 4 hours and standby for 10 hours. The batteries are hot-swappable and we designed the units to survive a 1 meter drop in any orientation.
| | |
| --- | --- |
| Speed | 7 ft./sec |
| Weight | 17 lbs |
| Range | 500 ft. LOS |
| Video | Pan/Tilt 420 lines color/IR video and audio |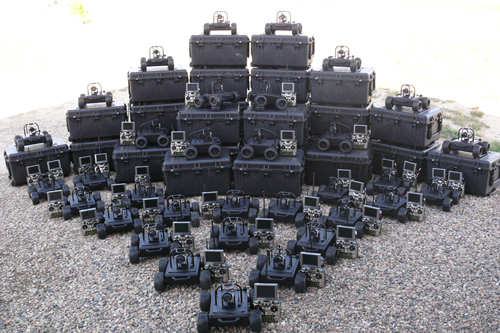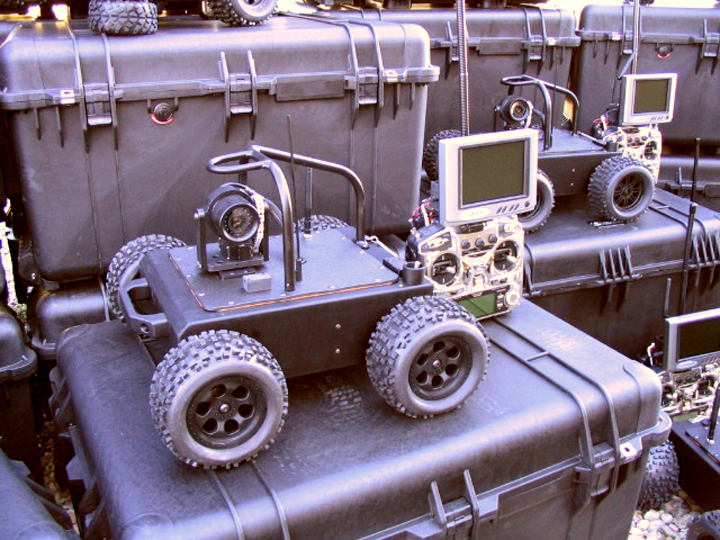 This MMP-40X custom tactical robot system was fabricated for the Douglas County Sheriff's Office in the state of Washington. Some unique features it possesses include dual pan/tilt cameras in the front and rear, and a remotely detachable trailer for carrying additional surveillance equipment or negotiations supplies.
For demos or refferals: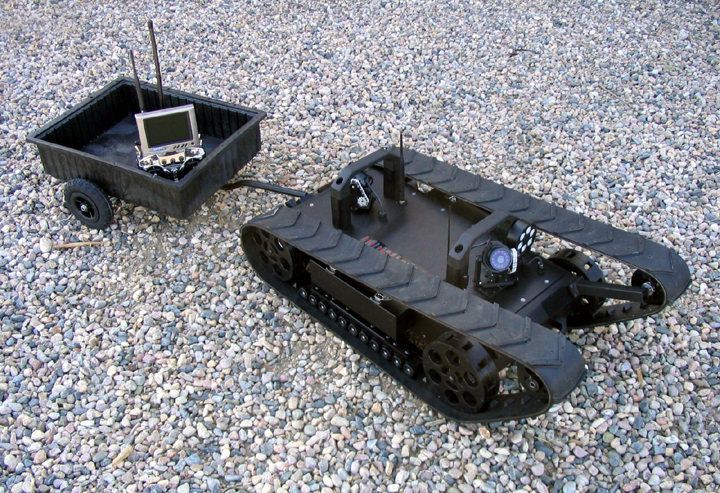 May 26, 2008
The Department of Mechanical and Manufacturing Engineering at the University of Calgary in Alberta Canada commissioned The Machine Lab, Inc. to design and build a custom research robot for their AR2S robotics laboratory.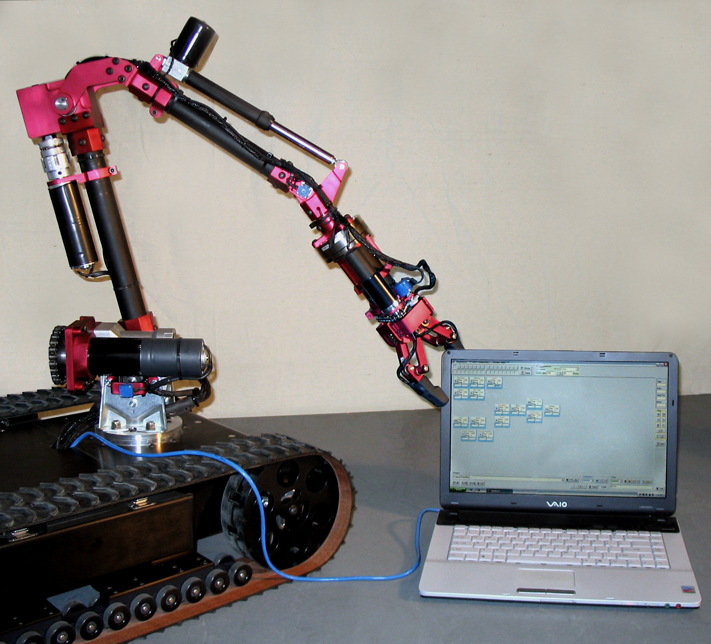 May 1st, 2008
MMP-15&30-EOD robots help US soldiers in Iraq.
In July 2007 the US army asked us to design 3 man-portable EOD robot systems with a 4-axis arms, video display OCU, multiple cameras, swappable batteries and chargers, all of which had to weigh under 35 pounds.
We designed, fabricated, and shipped all 3 robotic systems by the end of October the same year.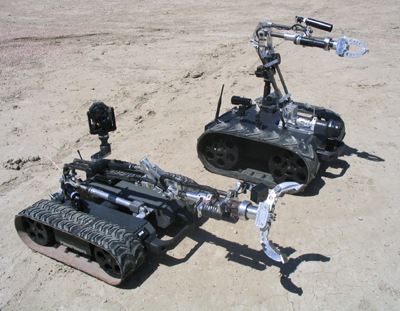 NASA Goddard Space Flight Center excursion to Antarctica.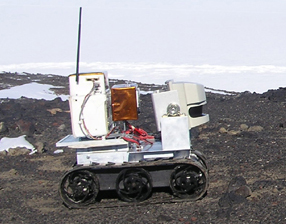 10/17/07
Department of Geosciences at Pennsylvania State University custom robot platform to withstand extreme temperatures on the Greenland Ice Sheet and carry additional payloads exceeding 120 pounds.
The Lab for Autonomous and Intelligent Robotic at the University of Waterloo used an MMP-8 for their project named CAMMRON (Coordinated Autonomous Multiple Mobile Robot with Outdoor Navigation).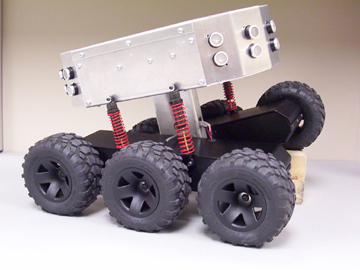 West Covina Police Department SWAT has been using several of our tactical robots and other custom equipment for 5 years now. One robot we designed is based on the MMP-40 tracked platform.
For referrals and information contact Officer Prizzi at the West Covina Police Department in Southern California.
Brian.Prizzi@wcpd.org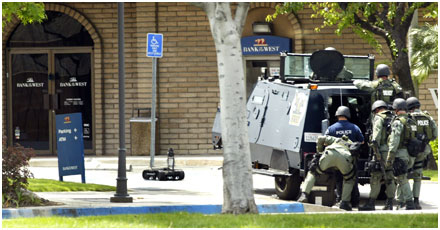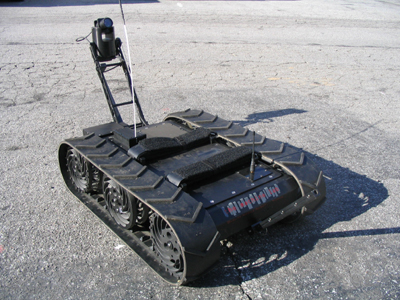 New planetary gearhead drive motors with 5 times greater gear strength come standard on all track drive platforms. New Heavy Duty drive sprocket for increased payload and durability.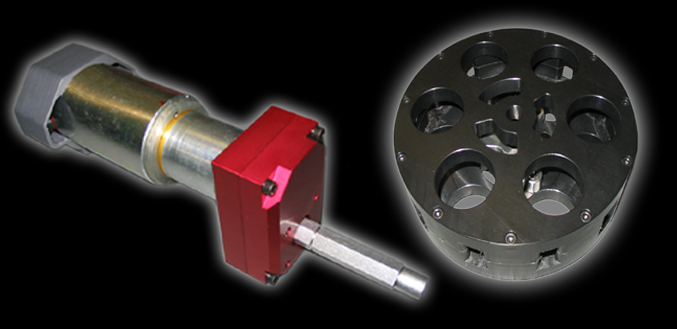 May 20th, 2007
General News
We have seen significant growth in the demand for more Commercial-Off-The-Shelf (COTS) robot products. Using an off-the-shelf product can drastically reduce the time from concept to working prototype, especially for engineering teams that want to focus on software development and sensor integration rather than mechanical design and fabrication.
The Machine Lab has over doubled its gross sales every year for the last 5 years. This consistent growth has allowed us to expand the product line and venture out into several industries where robots play very important roles.
The Machine Lab now has 4 separate sizes of robot platforms available and we will be coming out with at least 2 new indoor platform designs in the next 12 months based on our customer feedback. We are always open to ideas from you the customer so feel free to tell us what you would like to see in our product line: size, shape, terrain, payload, geometry and price. We take your suggestions very seriously.
Our customers range across the board from individual hobbyists to large defense companies. Many of which have become repeat customers based on the performance of the platforms they initially purchased. Many of our platforms have been operating for over 3 years.
Tactical and Surveillance Robots:
We have over 30 custom robots in active duty with various law enforcement agencies all over the US. We customized many of these robot systems specifically to the customer's needs. We have two FCC legal systems for regular consumers and we have some larger, more capable robotic systems with a multitude of upgrades for police use.
We will update our tactical robots page with specs on some robotic systems that we have designed and fabricated over the last 5 years. Our police robot systems range from $5,000 to $35,000. Please contact us for a custom system quote.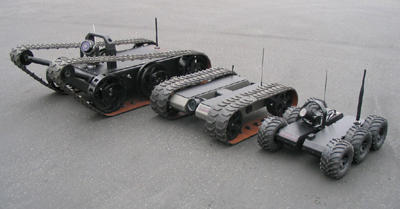 July 2, 2006
FREE Charger Promotion!
You get a free Smart Charger with the purchase of any MMP mobile robot platform through the Robot Marketplace.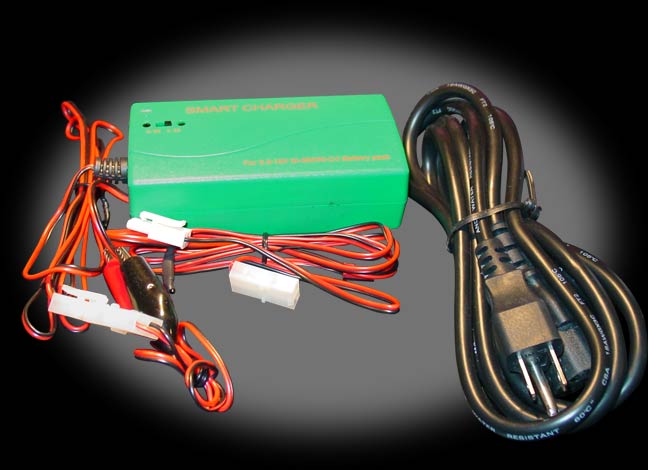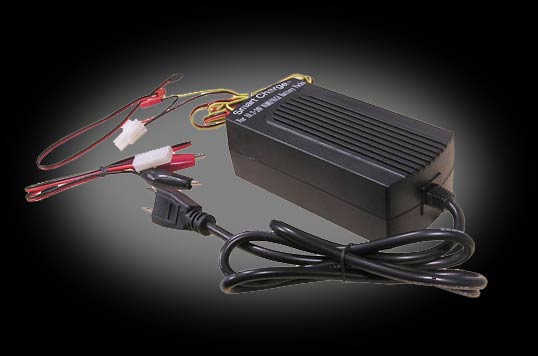 July 1, 2006
New black all-terrain tracks for our MMP-30 and MMP-40 mobile robot platforms. The drive sprockets have also undergone a re-design to reduce hardware and weight while increasing durability.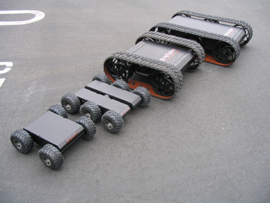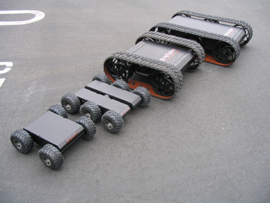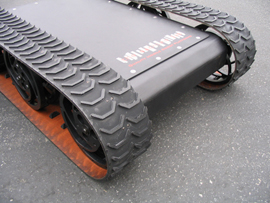 June 8, 2005
The Machine Lab has many new and exciting updates! We have robots that have been performing dangerous missions on roadside transit routes in Iraq. We have also developed some mobile surveillance systems that are being used by several police departments and Swat teams. We will have some pictures, and descriptions up shortly.
Most recently, we finished fabricating the worlds first .net programmed and WiFi controlled combat robot. ASPSOFT and Microsoft commissioned the project. The machine made its debut in front of nearly 8000 people at Microsoft's annual Tech Ed conference in Orlando Florida. Read more here.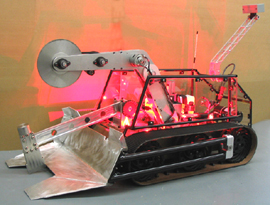 October 27th, 2004
NEWS!
We have revised and updated the website with new information and specs on the new MMP-30 and MMP-40 platforms. We also have some new FCC approved camera units with monitors for the MMP-5 and MMP-8 inspection units.
There will be some video of our new platforms soon. The new MMP-30 and MMP-40 platforms offer a much larger size and payload capability for even the roughest terrain. The MMP-40 robot can even climb stairs.
We are also re-structuring our pricing for The Machine Lab to be an OEM manufacturer. If you contact us, we will give you suggested retail pricing. Our primary Retailer is The Robot Market Place where you can find our line of products. They will update there website and inventory with the new platforms and all the new accessories. We encourage you to call or email us with questions you may have about our products.
For those of you that have enquired about the MMP-100 platform we regret to inform you we have ended this product line to provide the lighter and more cost effective MMP-30 and MMP-40.
Also, we will update information on our larger tactical/inspection platforms. These Mobile Robot Systems incorporate multiple cameras, wireless audio and video, and our new proprietary Spread Spectrum controllers. These new controllers have a phenomenal range and are more impervious to interference than traditional PCM or analog controllers. Besides these advantages the spread spectrum units are smaller, lighter and can support more channels of proportional control. Call or email for more information.
October 6th, 2004
NEWS!
The Machine Lab is on the move! Business is booming, and we have moved into a new facility. We have also been developing some new robot platform designs based on input from several different industries. We will debut the new designs at the Robonexus show in San Francisco on Oct. 21-23. We will post the new designs and information on the newly revamped website over the next couple of weeks.
The new designs are highly versatile and are being incorporated into many disciplines including research, military and law enforcement.
One of the biggest pieces of news for The Machine lab is that there are 3 Machine Lab robots going to Iraq in the next few weeks. These robots are outfitted with cameras and designed to remotely inspect suspicious packages along the main transits routes and highways.
Keep checking in for new info and feel free to contact us.
May 29, 2004
There is some new info on some of the projects that The Machine Lab has been working on.



5/1/04
New Black Hard anodized chassis for the MMP-5 and MMP-8 mobile Platforms. These chassis are sleek and provide a scratch resistant surface. Check them out.

10/9/03
New camera inspection systems are available. You can learn more HERE and you can purchase the new systems at The Robot Marketplace.
We will soon be offering custom wireless controllers for our platforms as well as LCD screens for viewing mobile camera images.
9/19/03
We have posted some scale photos of the MMP-5 and MMP-8 platforms next to a standard sized laptop computer.
Also, New downloadable and printable PDF brochures for the MMP-5 and MMP-8 mobile platforms.
5/5/03
The Robot Marketplace is now an official distributor for The Machine Lab. They carry our two small MMP-5 and MMP-8 platforms. They can accept Pay Pal, Credit Cards, Mail Order or Purchase Order.
4/13/03
Tons of updates. There are new photos and video of the MMP5, MMP-8 and MMP-100 platforms. We took them to the red deserts of Arizona to put them to the test. There is also a brief description on the Projects page where we outfitted an MMP-8 with a color camera and transmitter.
Good news on distribution. If you are interested in purchasing a mobile platform from The Machine Lab they will be available through the Robot Marketplace. Platforms can be purchased via Credit Card, Pay Pal or by mail order.
2/27/03
The Machine Lab is setting the gears in motion and opening the doors for business. The site is under construction so please bear with us. We are in the process of filling in all of the gaps and setting up our Pay Pal account so we can accept payment via that service.
Feel free to shoot us an e-mail with questions and comments. Let us know if the site is performing respectably.
More pictures of the MMP-5 and MMP-8 platforms are being loaded. The larger MMP-50 and MMP-100 platforms are under final development and information will be posted as soon as possible.