Our prototyping shop has been busy working on several custom robots for inspection and cleaning applications. The first robot system was engineered to work completely submerged in water tanks. The robot is completely waterproof and is operated via a 50 foot tether. This robot will be outfitted with a vaccuum head which will allow it to clean the inside of the large water tanks. Here is a photo of one of our test excursions at a nearby lake. This particular robot was designed using our off-the-shelf Track Pod drive systems. https://www.themachinelab.com/products/Trackpods.html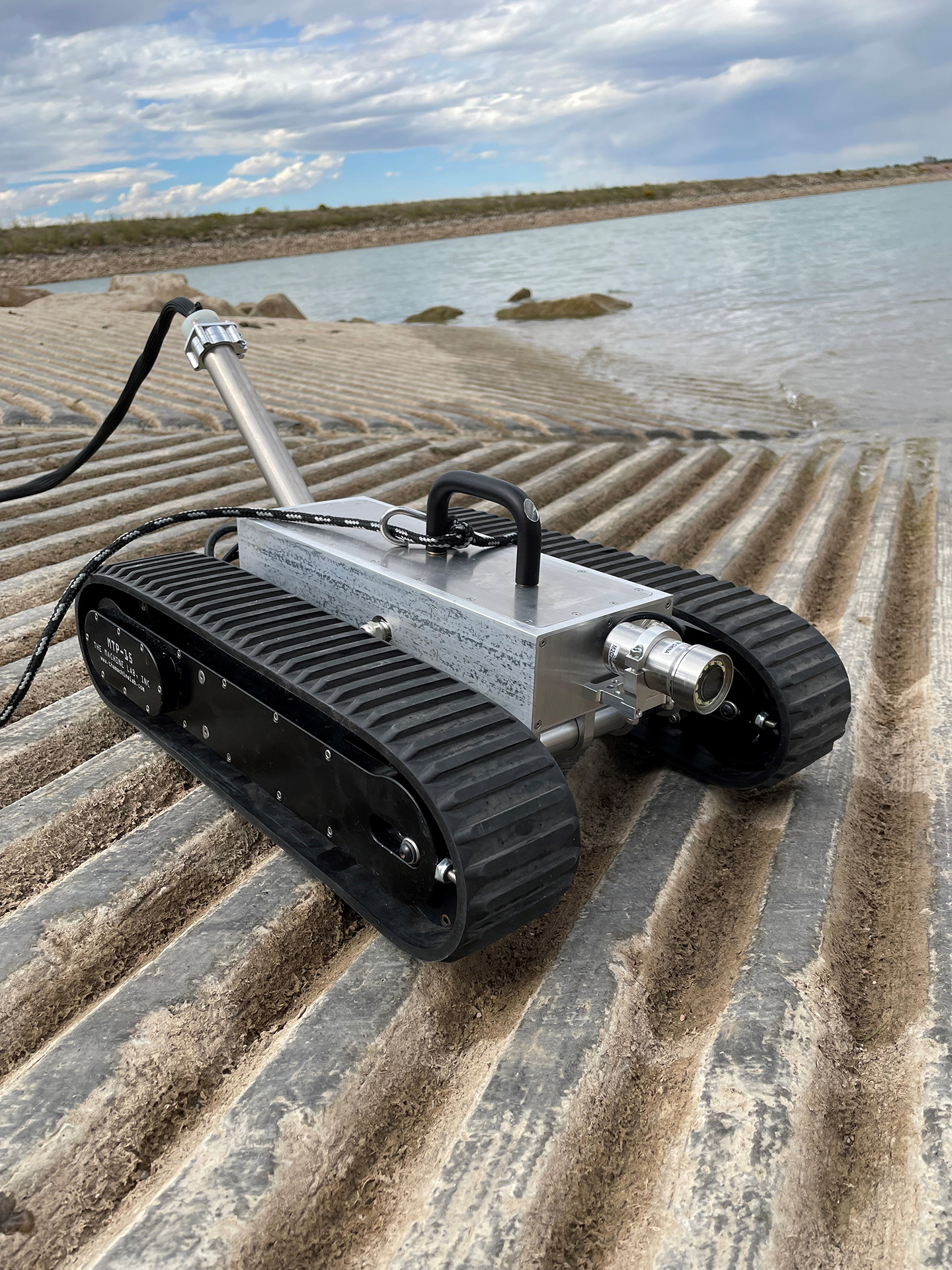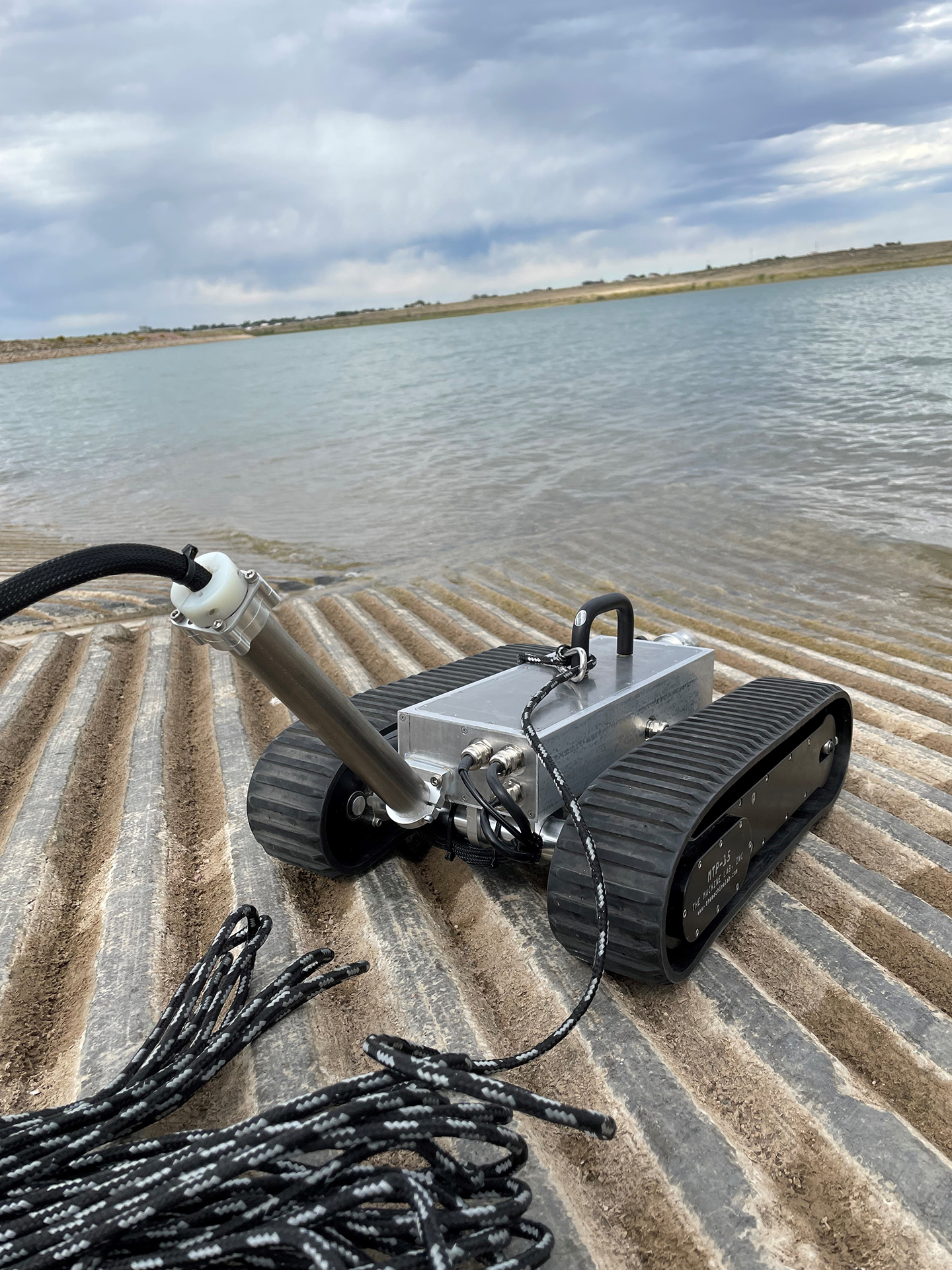 This larger robot which is a modified MMP-40 platform was designed to clean rocks, dirt and debris out of agricultural storage buildings. The clamps on the top of the robot are where the large vacuum hose attaches. The vacuum hose carries the debris back to a truck where it is collected. This robot system is also tethered and can operate on a standard 110V AC power outlet.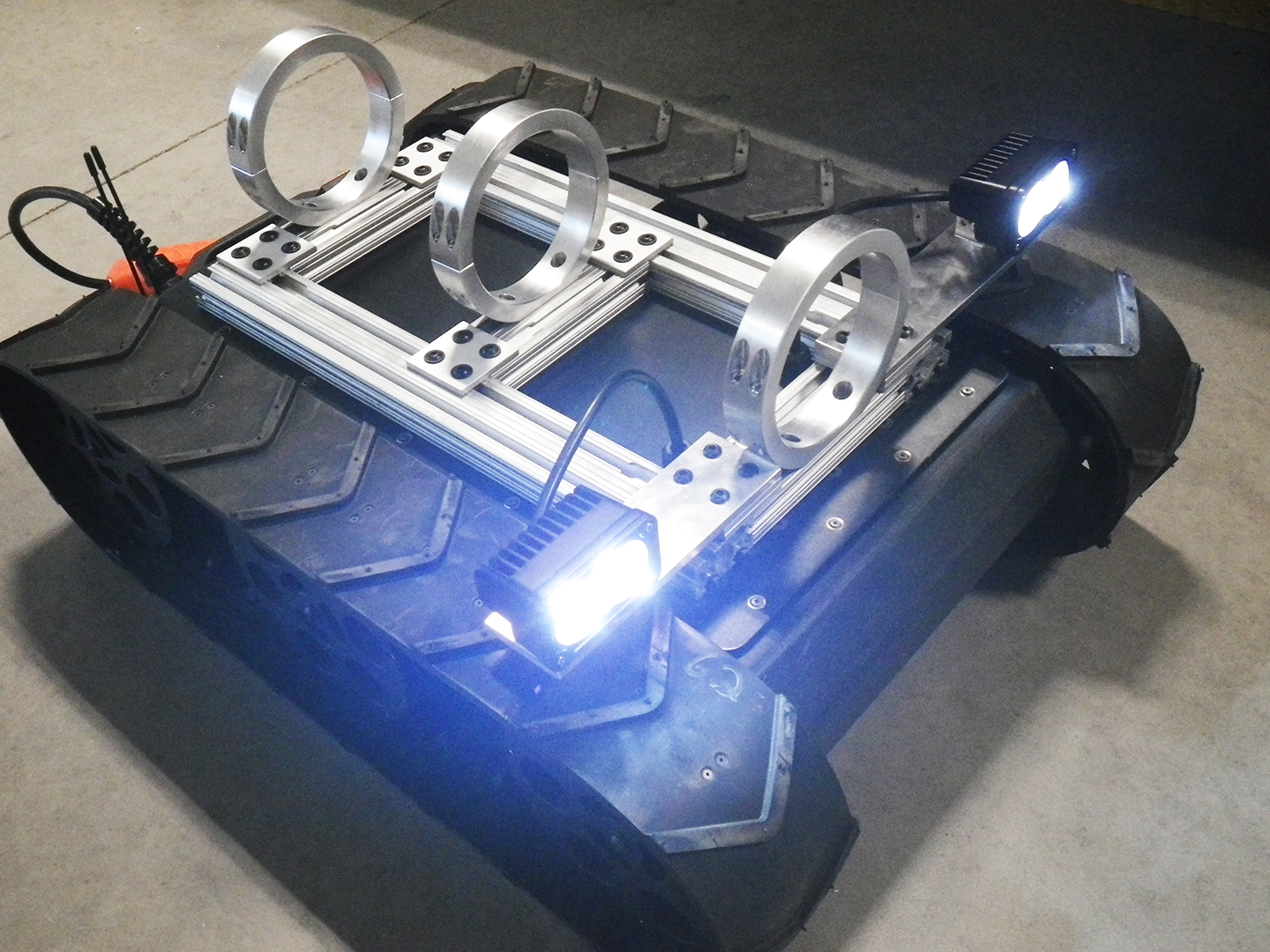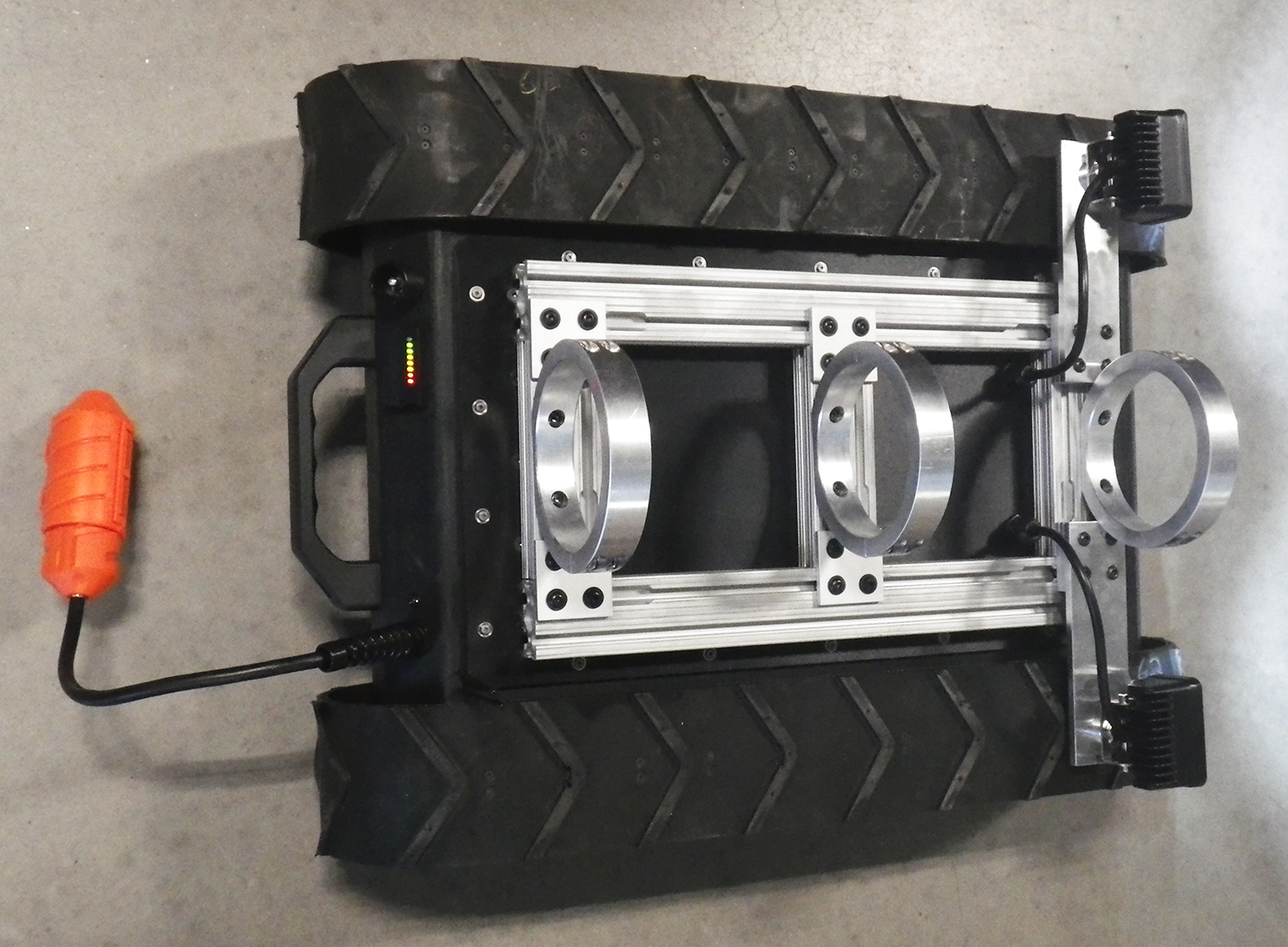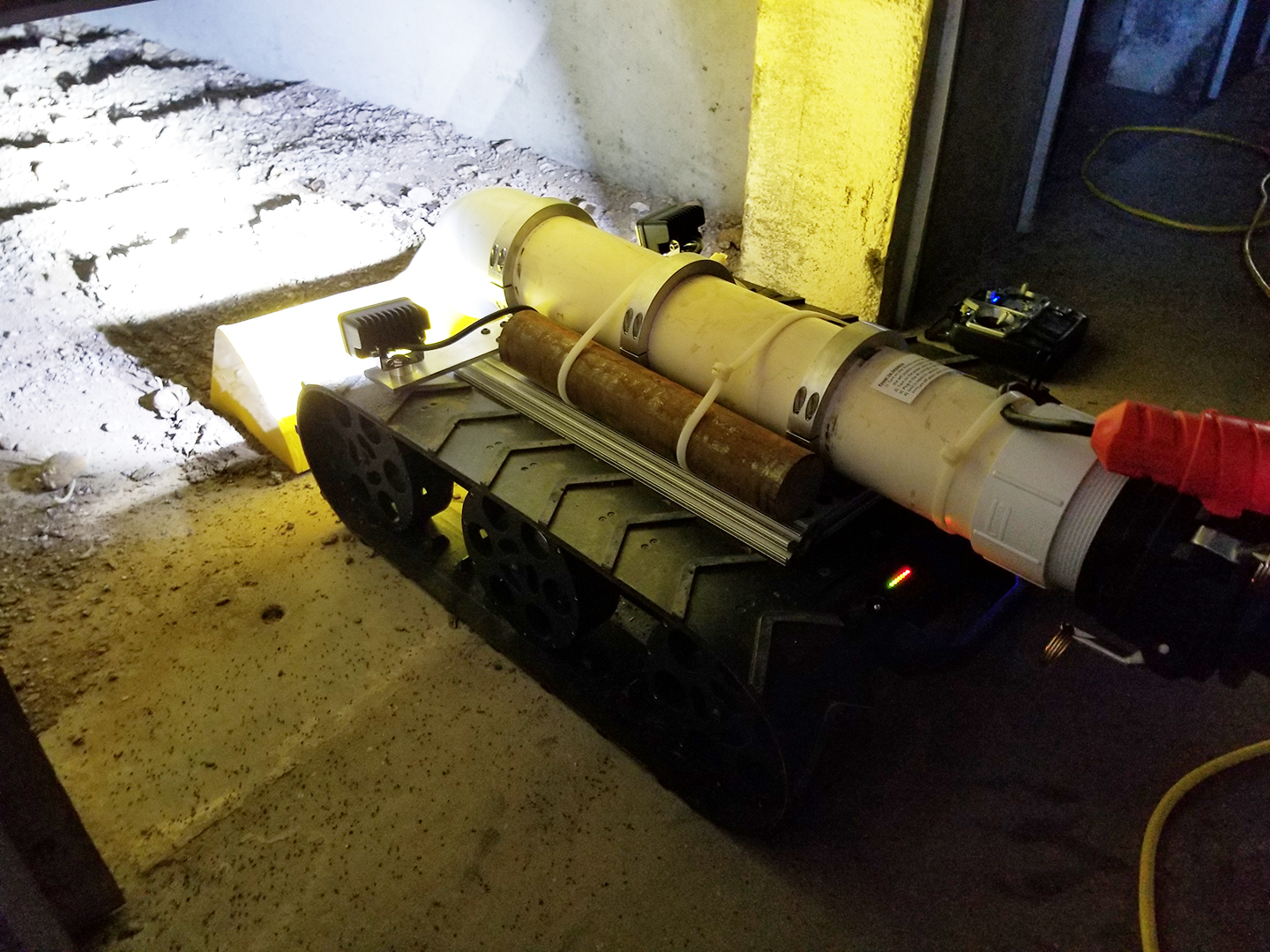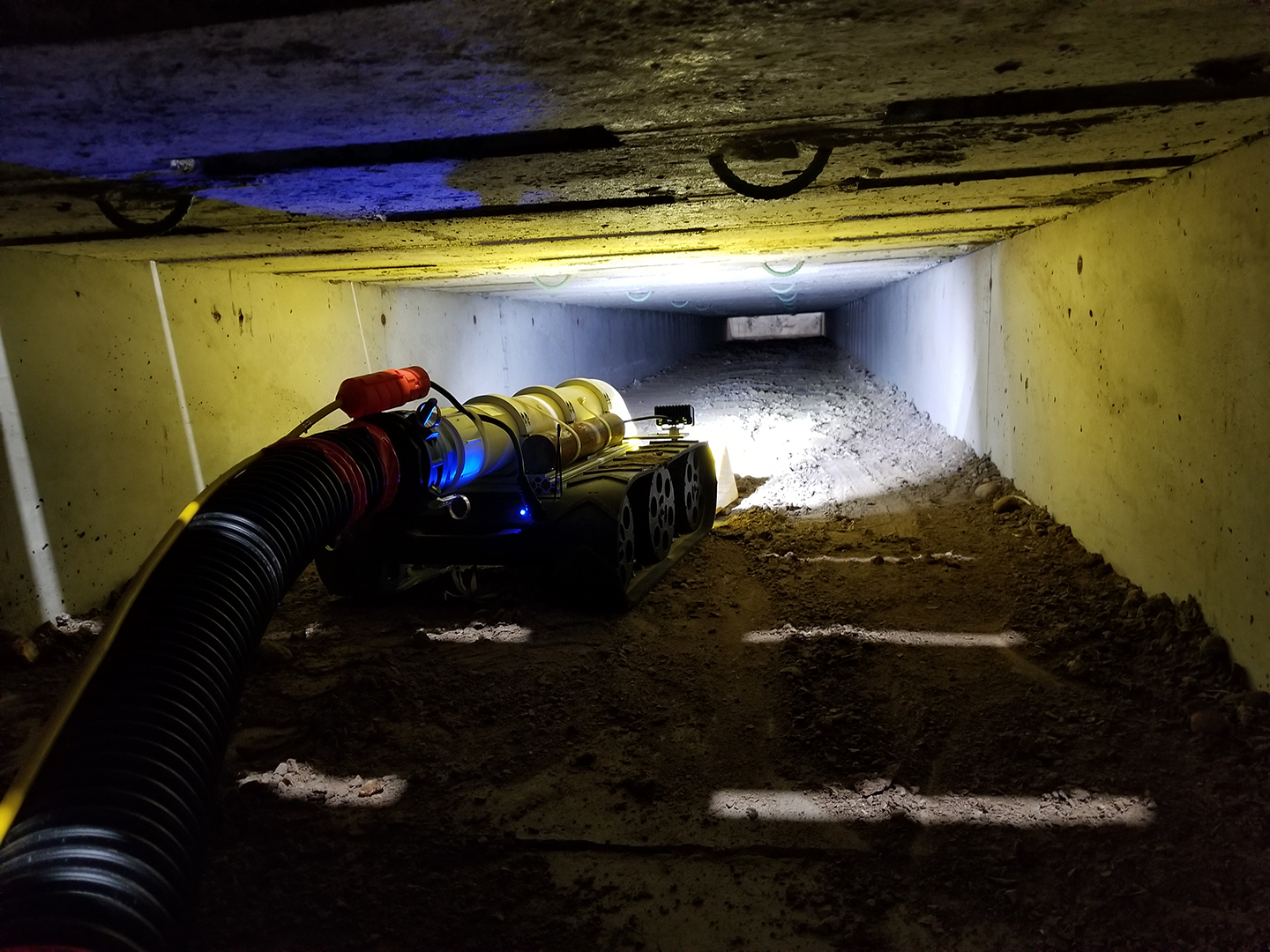 Here are some photos of our large custom track pods integrated into a robot that can pick strawberries autonomously.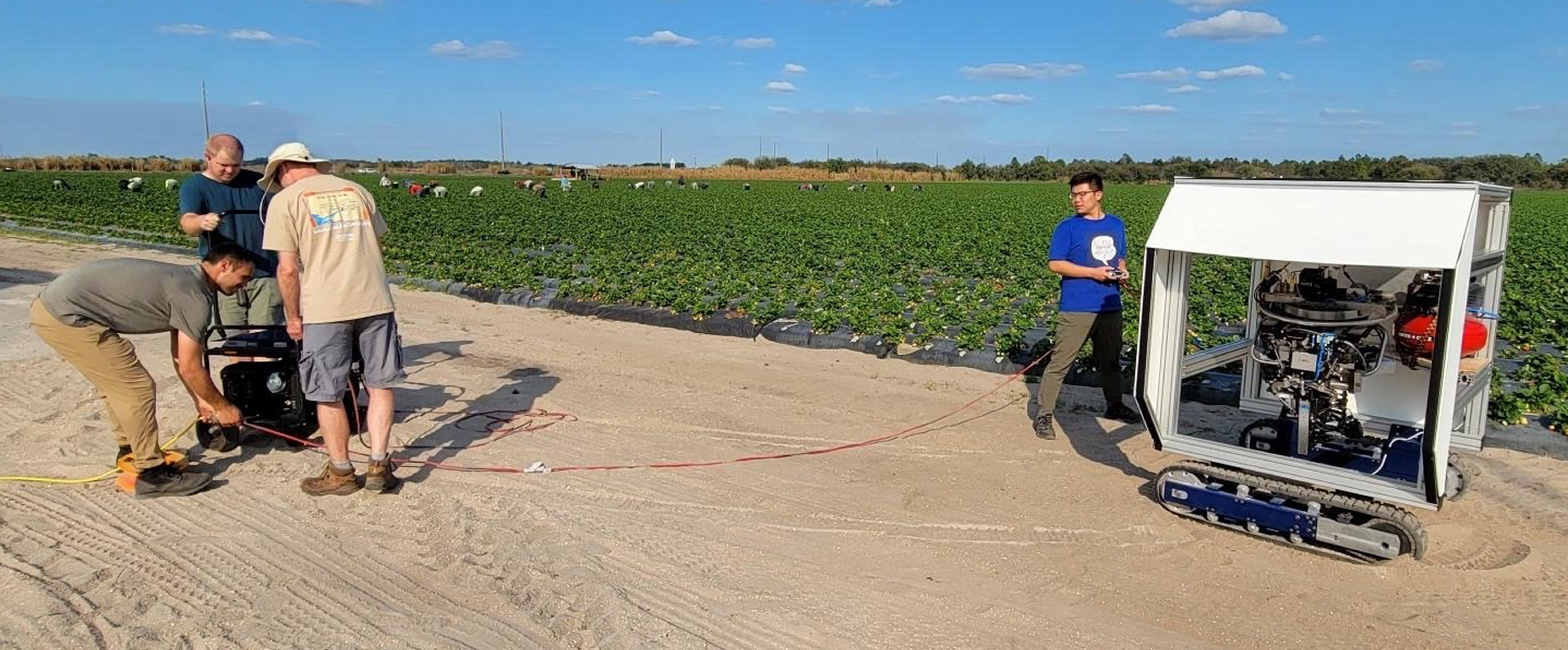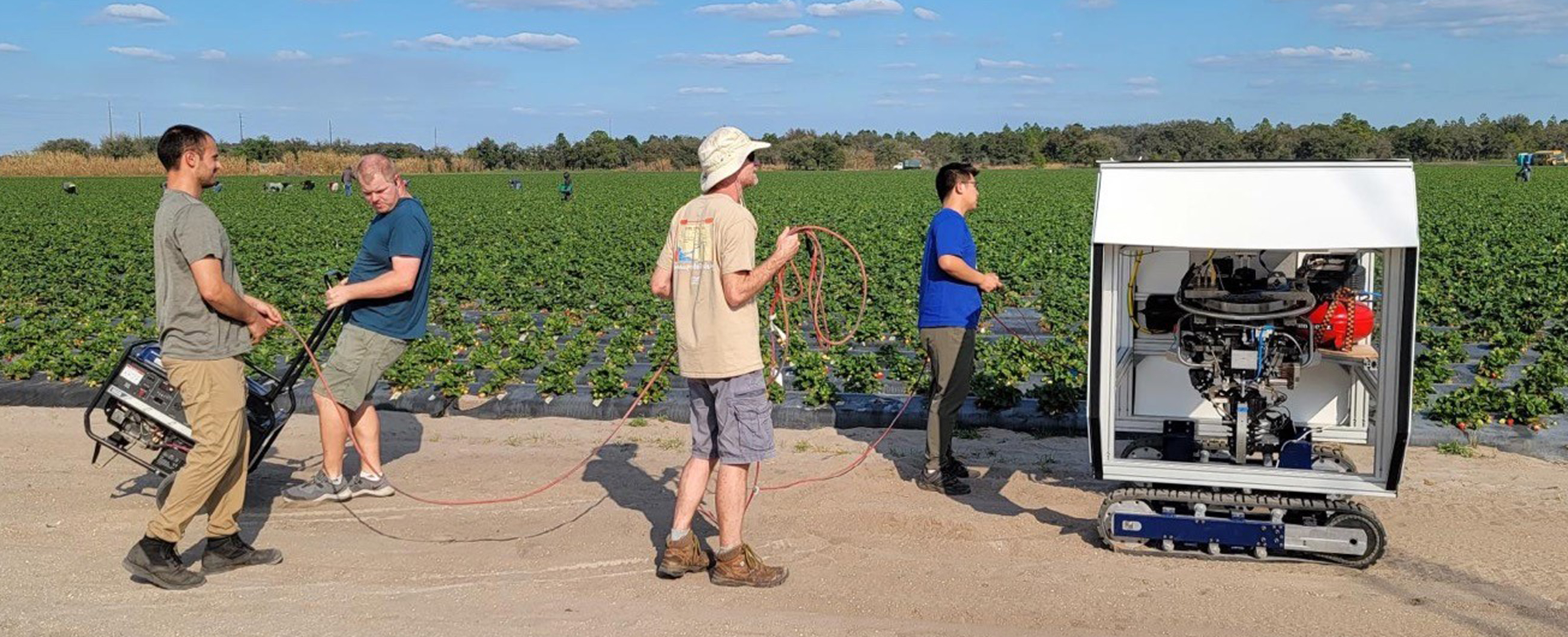 Recently we designed and fabricated a pair of custom large track pods for a customer in the agricultural robotics industry. These drive pods weigh in at 125 pounds each and can carry 200 pounds of additional payload.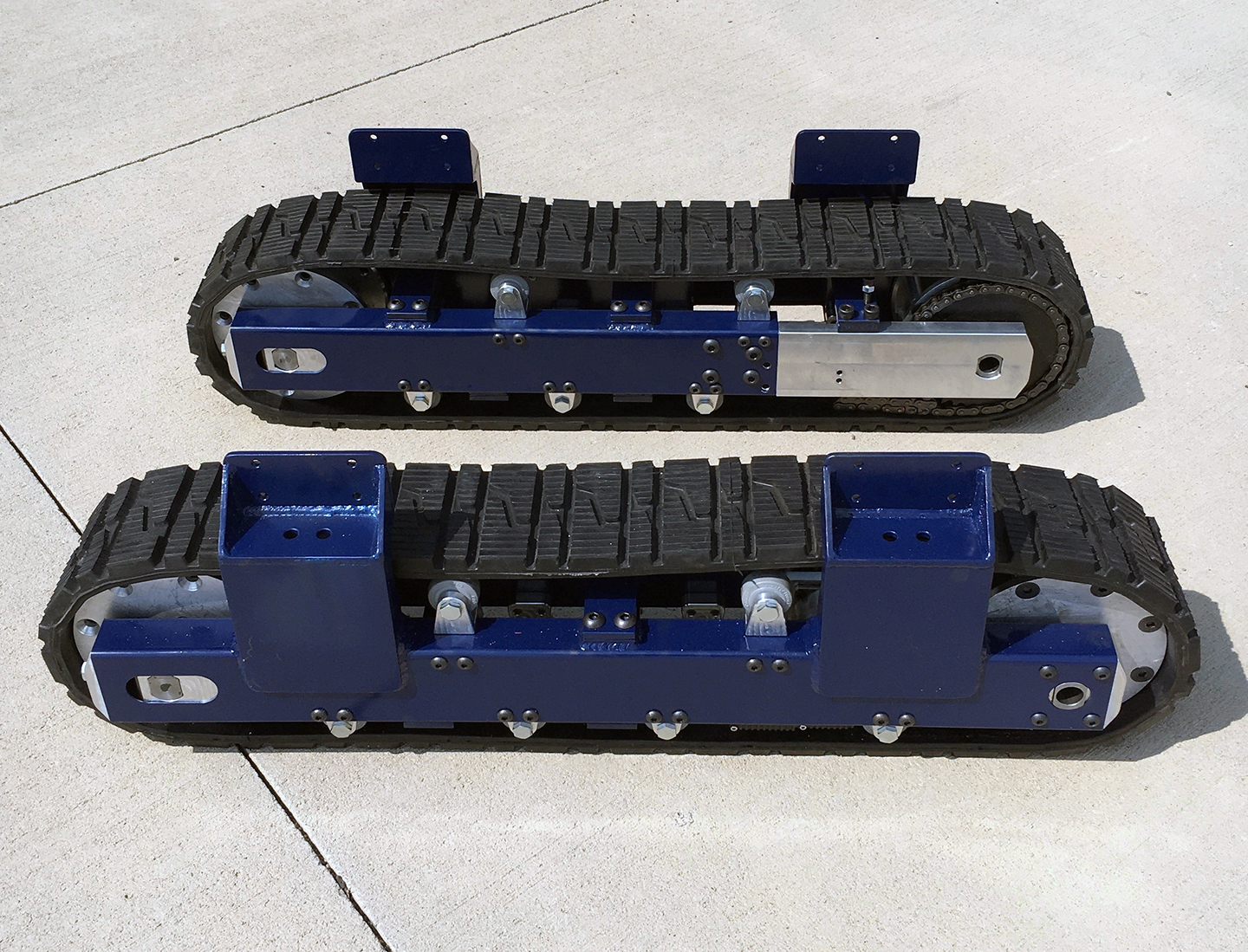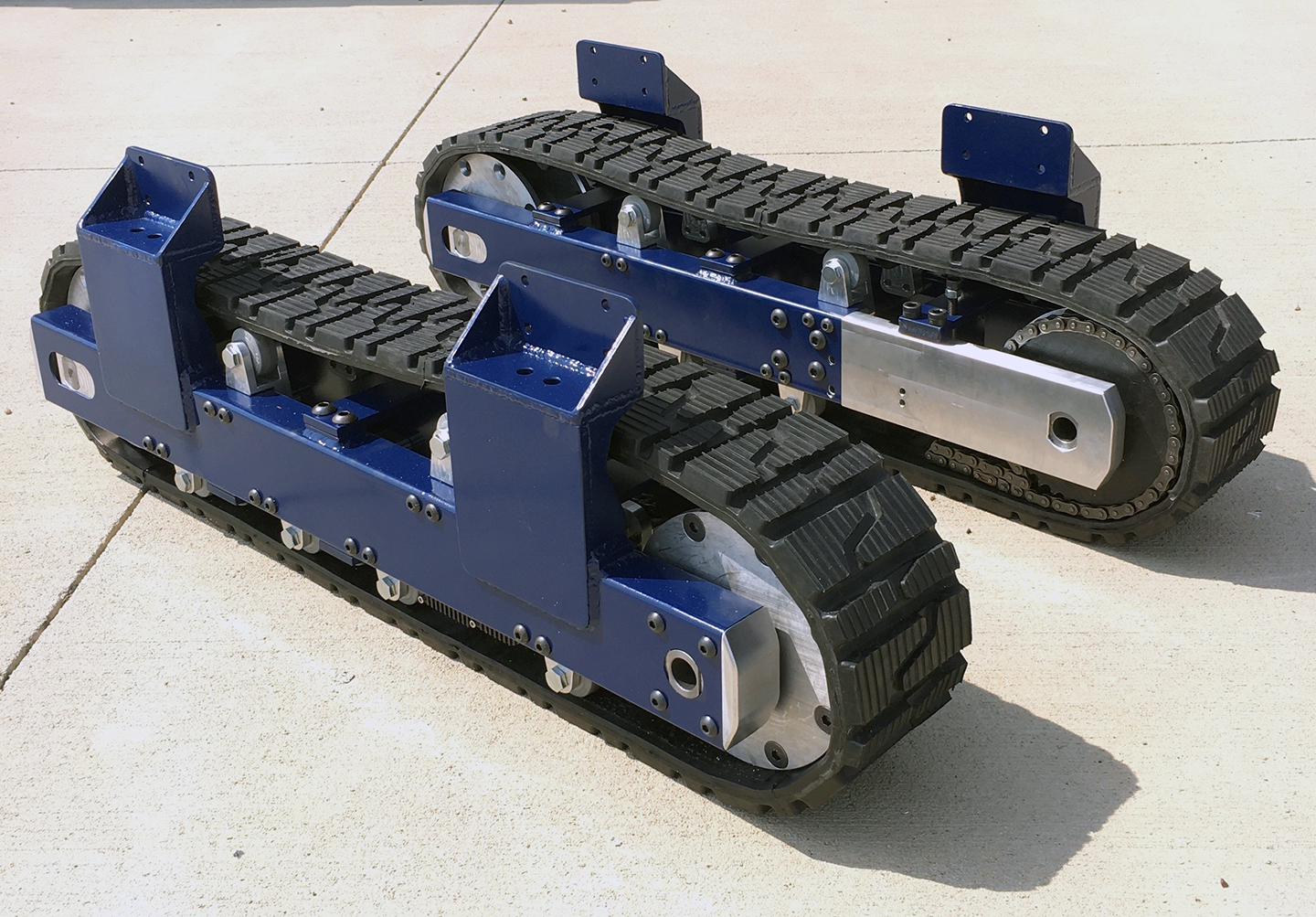 One project that we completed was a custom tracked platform for a research company in the UK. This machine was to be controlled autonomously by an on board laptop via USB while giving an operator the ability to regain manual control of the robot at any time.
The mobile platform was outfitted with custom dual pan/tilt mechanisms for multiple sensors and cameras. The platform also has a modular prototyping deck for electronics and the laptop.
Our engineers wrote the code and designed the electronics for the dual control system. All electrical components were sealed in waterproof housings and the robot was equipped with enough battery capacity to run for 4 hours continuously.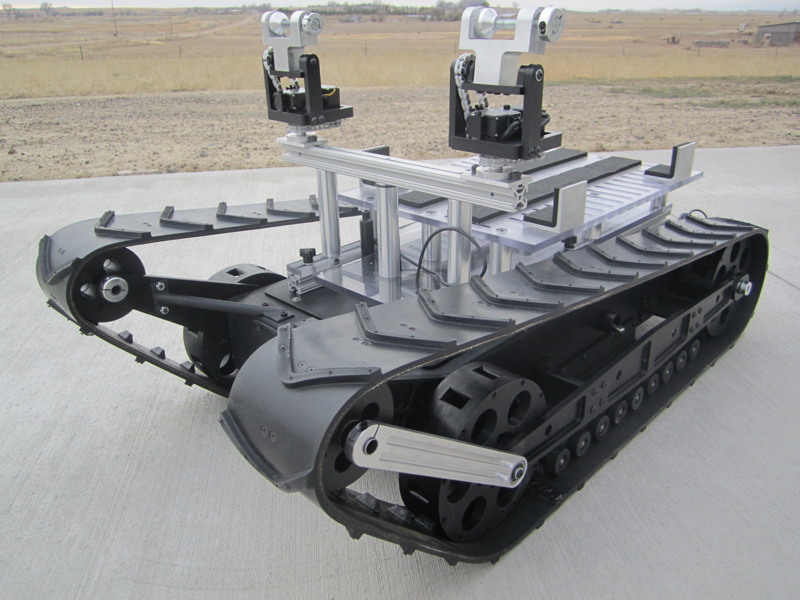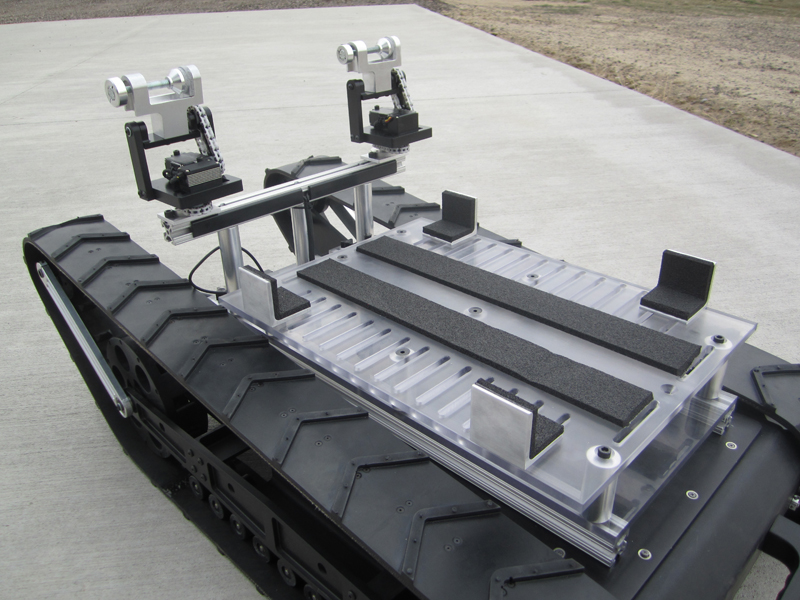 We engineered this custom robot platform to carry a mechanized debris clearing blower which cleans residential and commercial building rooftops. The robot is remotely operated and has a wireless video feed from a forward facing pan/tilt camera and a rear facing camera.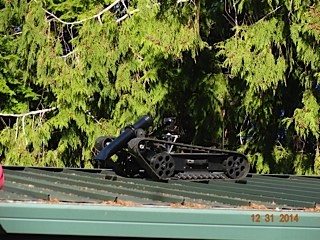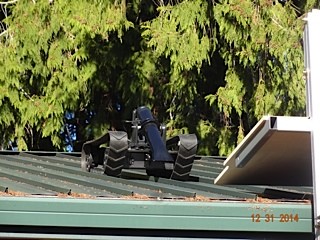 The NBC television show State of Affairs used one of our MMP-40X-HD Tactical robots as a bomb robot that is used to search a building for explosives. It appears in  Season 1, episode 10 titled "The War at Home."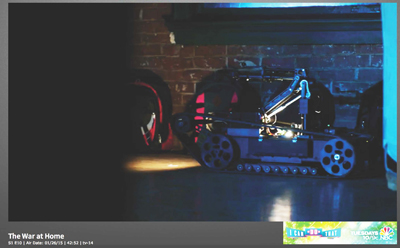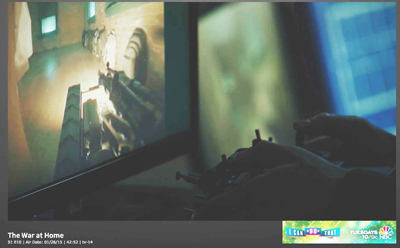 A custom long range MMP-15 was built for McAllen Police Department in Texas.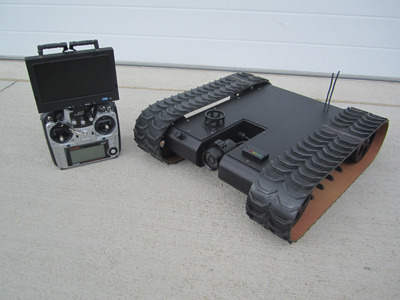 TML built several mobile robot platforms for a TV network in the UK that used them to film penguins in the arctic. These robots were modified to endure cold weather, harsh conditions and operate for extended amounts of time on a single charge.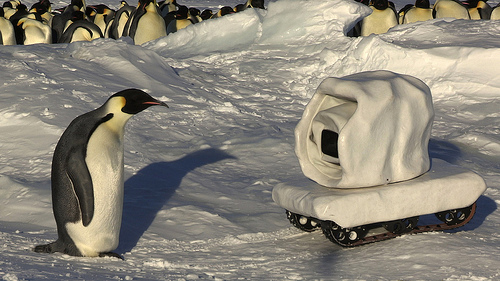 TML's prototyping lab built this robot for the West Covina SWAT team in Southern California. The robot has a 5 axis telescoping arm that can extend over 4 feet from its original length. The arm can lift 15 pounds fully extended and can reach a total height of almost 6 feet. The gripper is accompanied by a 220X Zoom/Pan/Tilt camera and a wide angle gripper-focused camera and a retrieval hook. There are several detachable tools that can either be grasped by the gripper or manually attached in a matter of seconds.
The custom Operator Control Unit has true hot swappable batteries, a built in battery charger, 2-way audio with blue-tooth headset, 4-camera quadplexing, and dual 3-axis joysticks for arm control which give the operator precise control of all the arm joints simultaneously. This robot can climb stairs and see over privacy fences. It weighs in at only 125 pounds and has a speed of 3.5 ft/sec. It has a run time of approximately 4 hours depending on mission profile and can be deployed in less than 1 minute.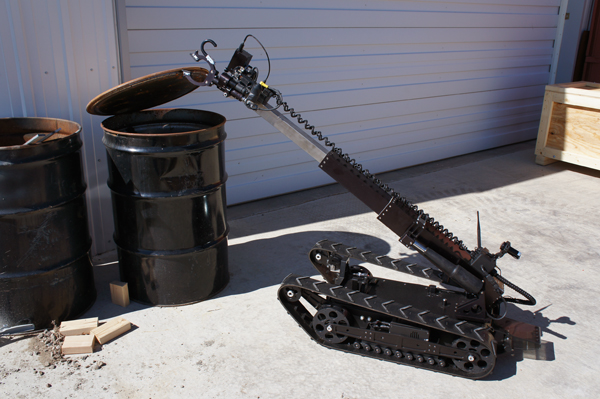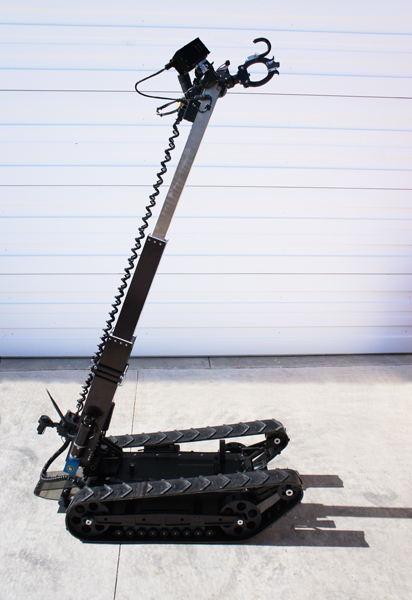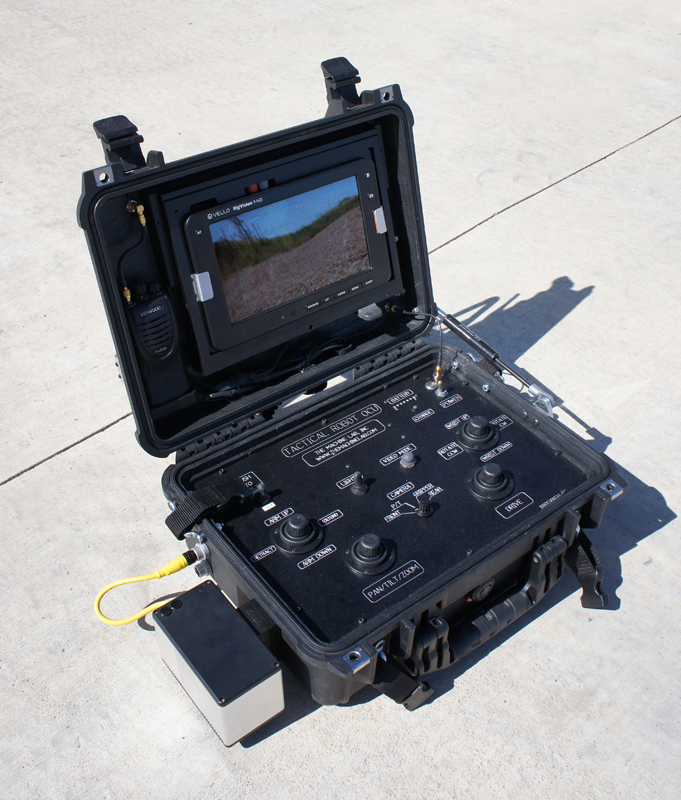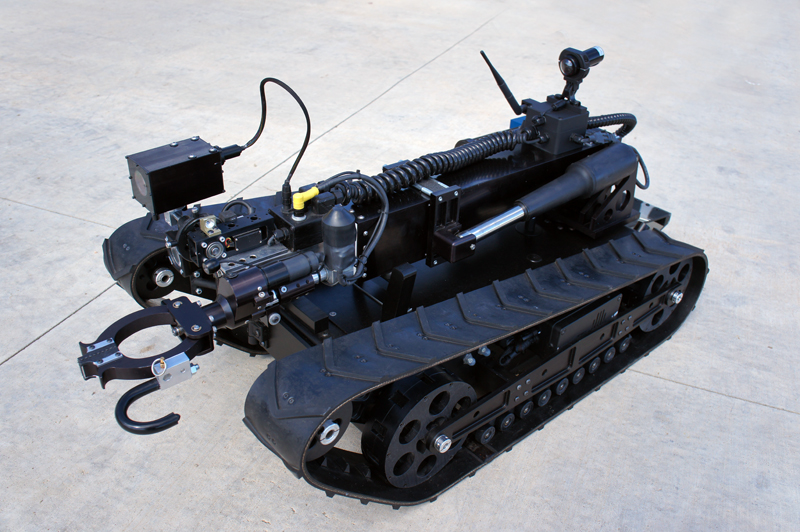 Northern Colorado Bomb Squad robot for carrying hazardous gas sensors. Features include 8 foot telescoping surveillance mast, thermal, 200X zoom and IR cameras, 2-way audio, remote release trailer and custom operator control unit.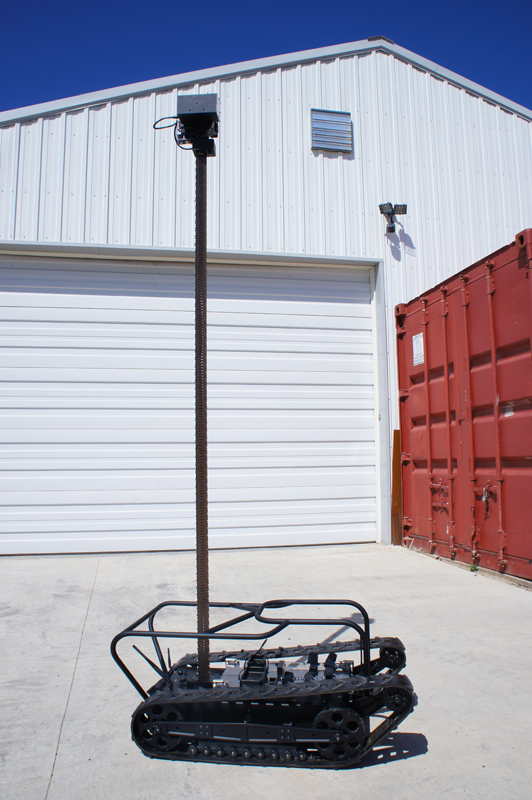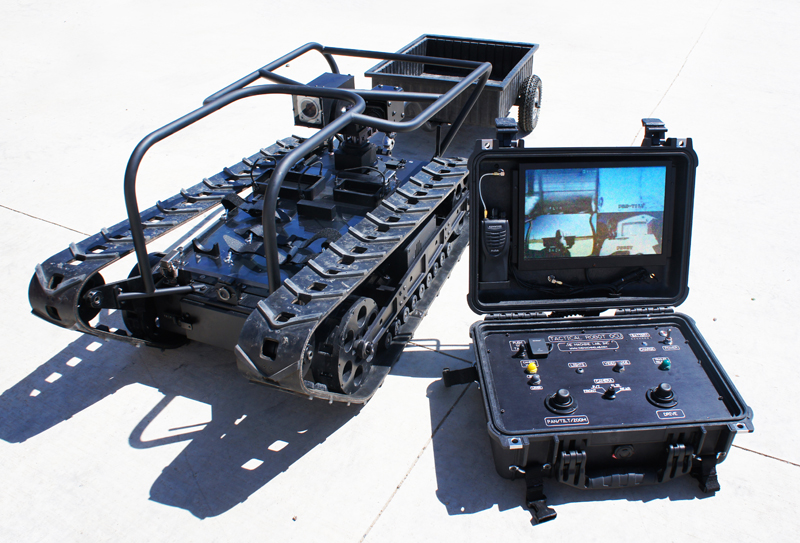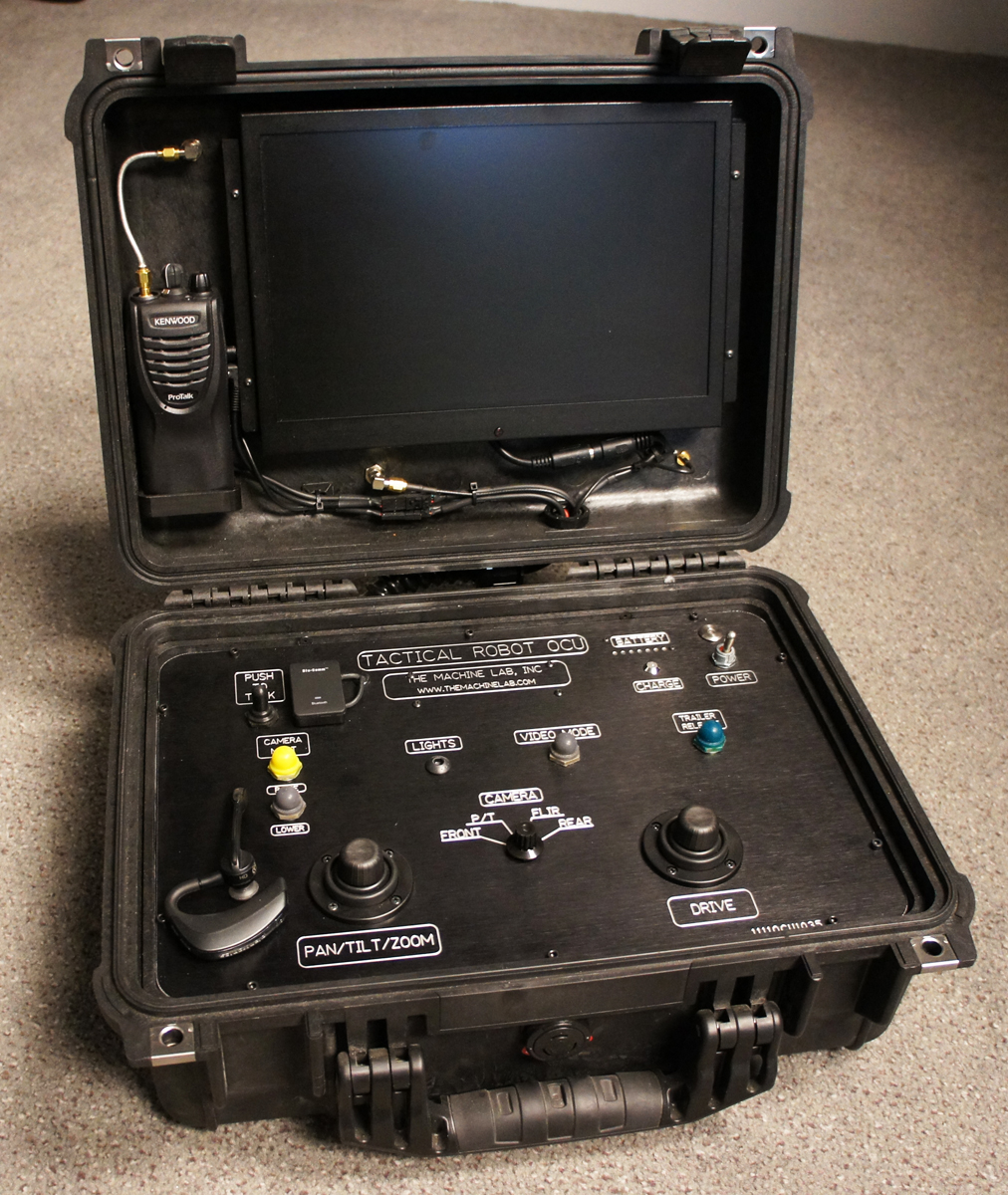 Typhoon 9000 is a 1200 pound brush clearing robot for reducing vegetation down to 2 inches height in active minefields. Features include 2500 RPM 8 hp electric flail cutter/mulcher attachment, 4 camera drive system, hybrid gasoline/electric power system and low ground pressure track drive.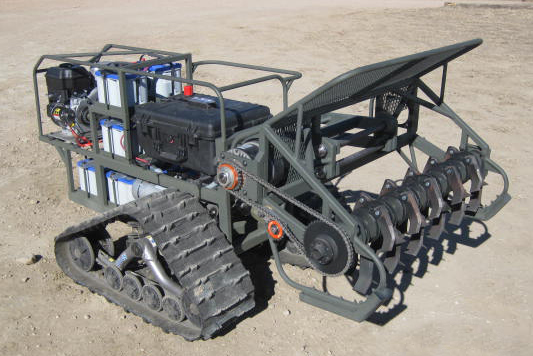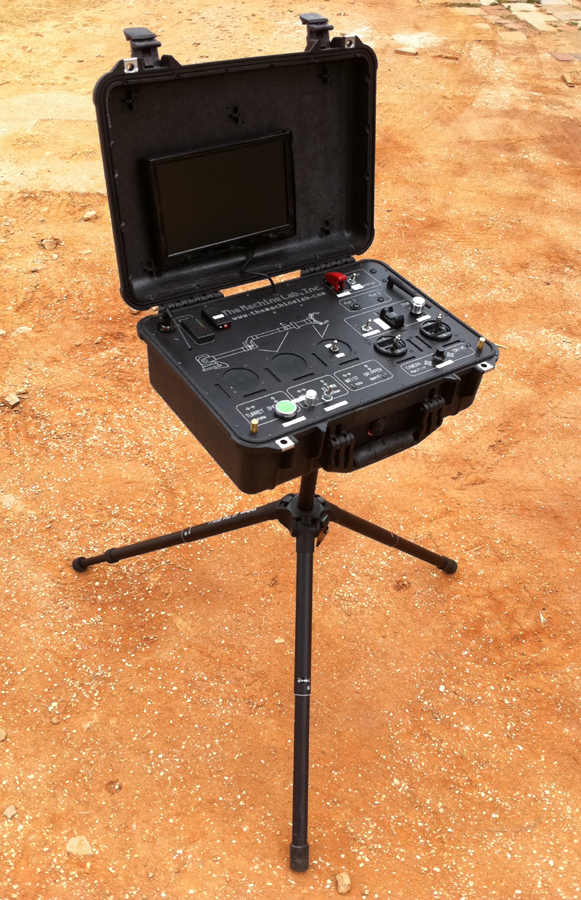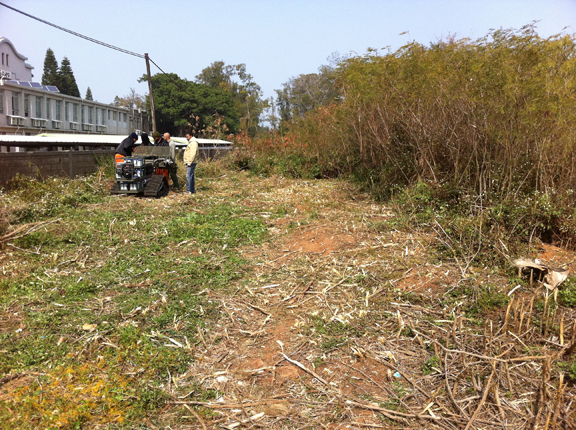 We fabricated this MMP-40X custom tactical robot system for the Douglas County Sheriff's Office in the state of Washington. It possesses dual pan/tilt cameras in the front and rear, and a remotely detachable trailer for carrying additional surveillance equipment or negotiations supplies.
For demos or referrals: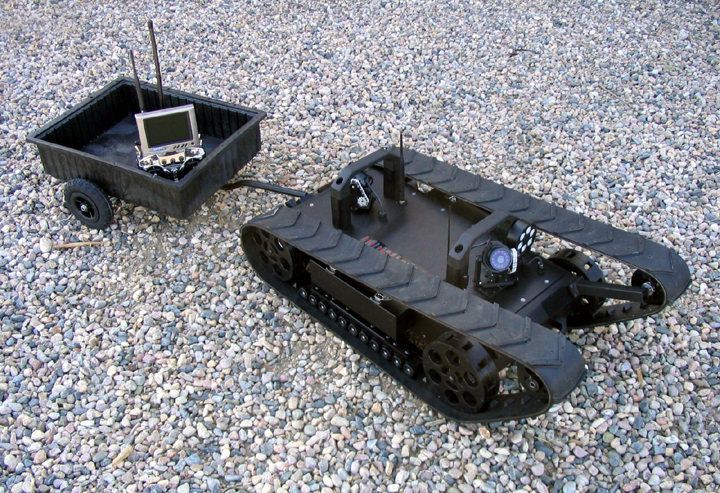 The Department of Mechanical and Manufacturing Engineering at the University of Calgary in Alberta Canada commissioned The Machine Lab, Inc. to design and build a custom research robot for their AR2S robotics laboratory.
This robot has many features that give it the ability to sense its environment and interact with it. Some exceptional features that it has are:
Pan/Tilt/Tilt Mechanism for 260X Zoom camera and S3000 SICK Laser Scanner. The pan axis and the two separate Tilt axis have position feedback. There is also an array of 6 ultra bright white LEDs for proportional, variable illumination.
A six axis manipulator arm with feedback sensors on all axis of motion including pressure feedback sensors on the gripper pads. This arm can lift 15 pounds at a full extension of 48 inches. The arm can lift 35 pounds in retracted positions.
We designed a custom wireless (OCU) Operator Control Unit that allows an operator to control all axis of the robot remotely with color video and audio.
The OCU has an interrupt switch that allows the operator to switch between wireless control and RS-232 computer control by an on-board PC. This gives the robot the ability to operate autonomously or semi-autonomously at any time.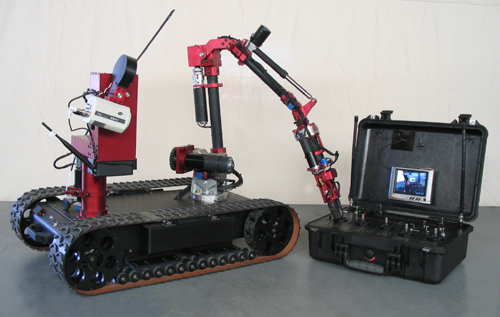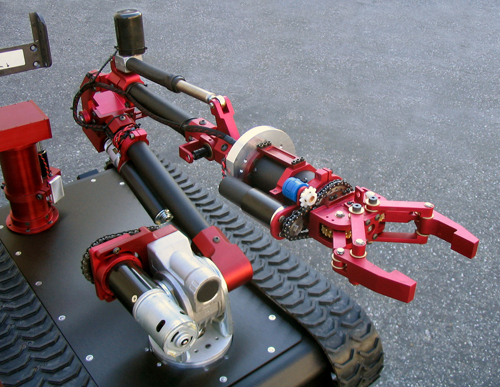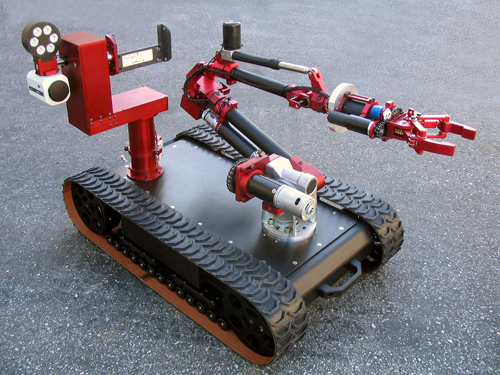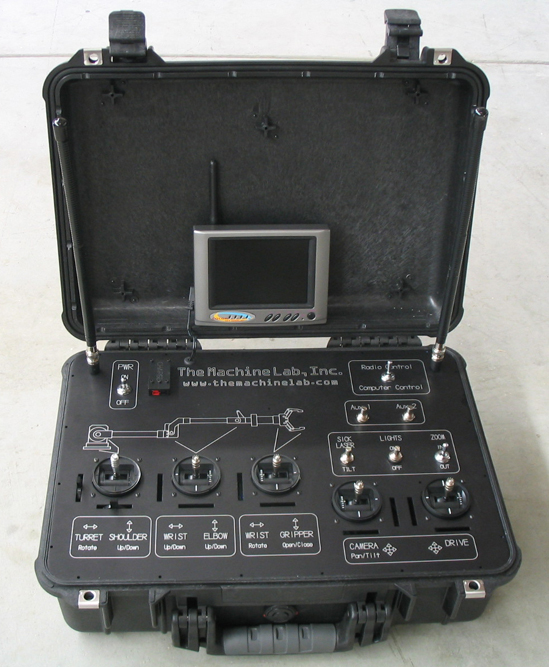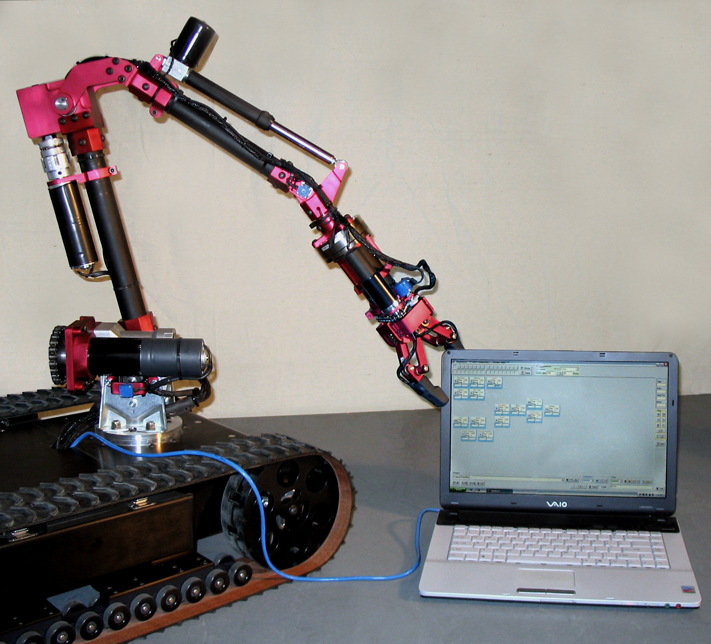 The Machine Lab designed and fabricated 3 custom EOD robots for US soldiers in Iraq. The need for the machines was dire and we completed the design, build and testing in 4 months. The robots are still in action and helping save lives.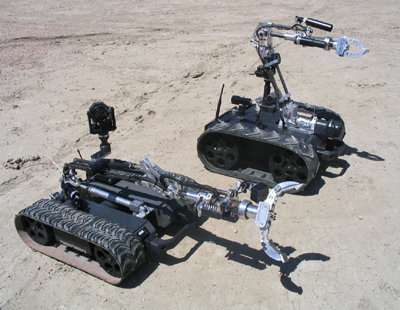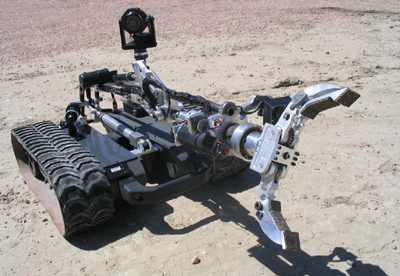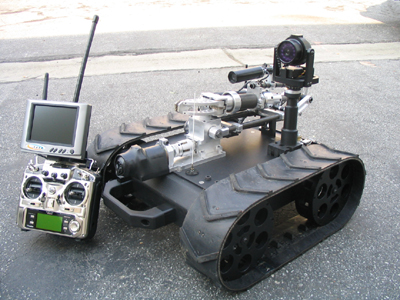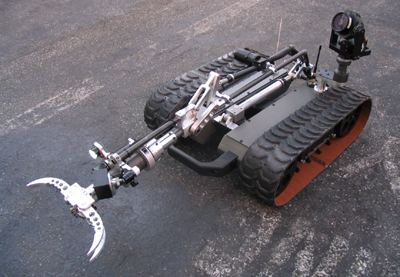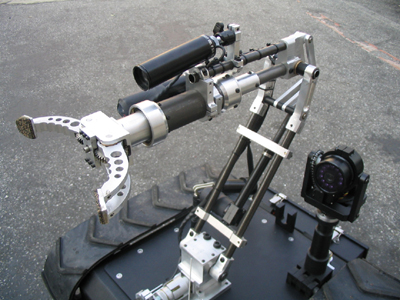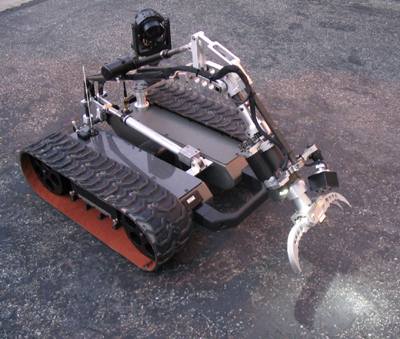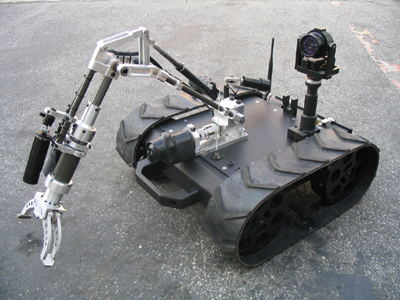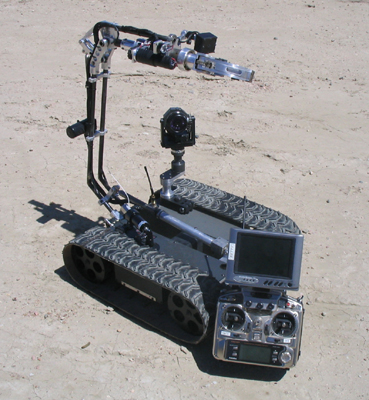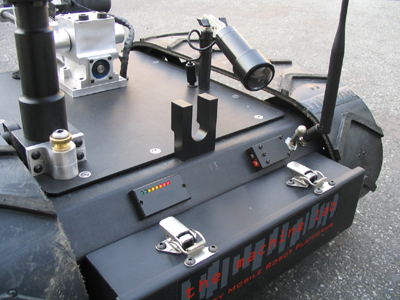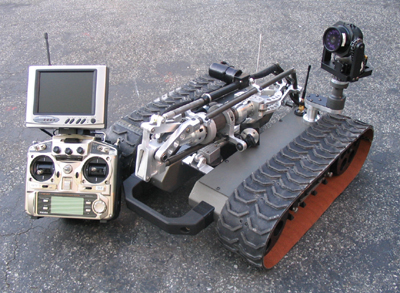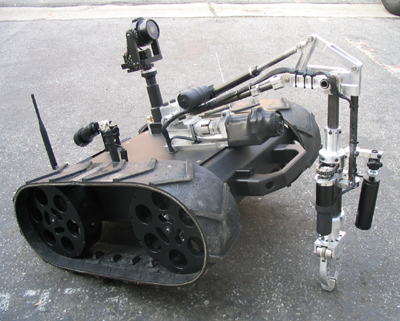 This project started out as a high school attempt at designing a Tactical robot for the West Covina S.W.A.T. Team in Southern California. Officer Brian Prizzi of the W.C.P.D. approached the class with the idea and then solicited money and parts for the robot. The Machine Lab was asked to help the high school students design this machine to aid in tactical operations such as surveillance, inspection, negotiations, equipment/food delivery and object retrieval/disposal.
This was an ambitious project for the school and they ended up with a lack of time and resources to finish it. Officer Prizzi asked TML to finish the machine to its fullest potential while considering its "shoe-string" budget.
We accepted the challenge of finishing the design of the drive train, arm mechanics, and electrical control of 14 different functions. The robot is battery powered and operated via. a wireless controller.
The robot can climb curbs, peek into windows, open doors, see in total darkness, manipulate suspicious objects and carry a payload.
The West Covina Police Department immediately realized the potential of such a versatile tool and has already incorporated the robot into its training exercises.
The Robot was named BULLDOG after the West Covina High School's mascot. Hopefully Bulldog will give the W.C.P.D. the ability to carry out its missions more efficiently and more safely.
Here is a copy of the Press Release.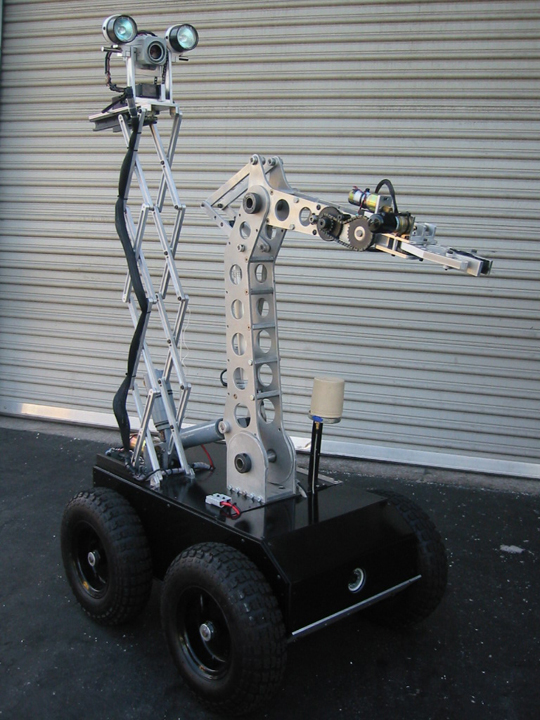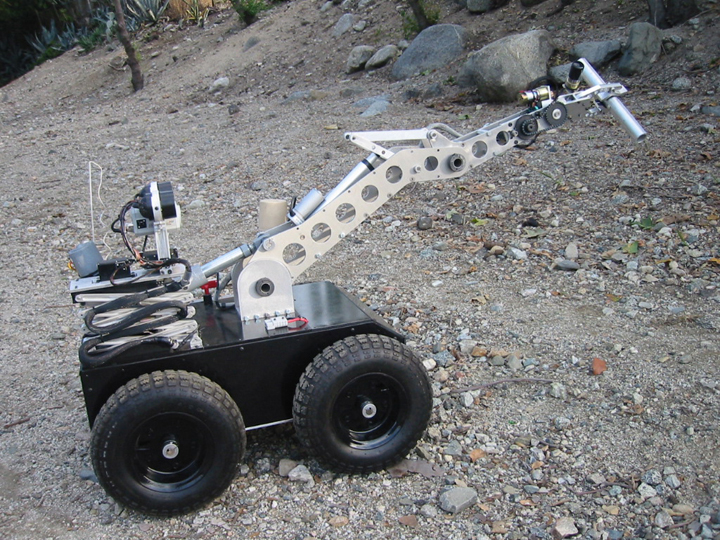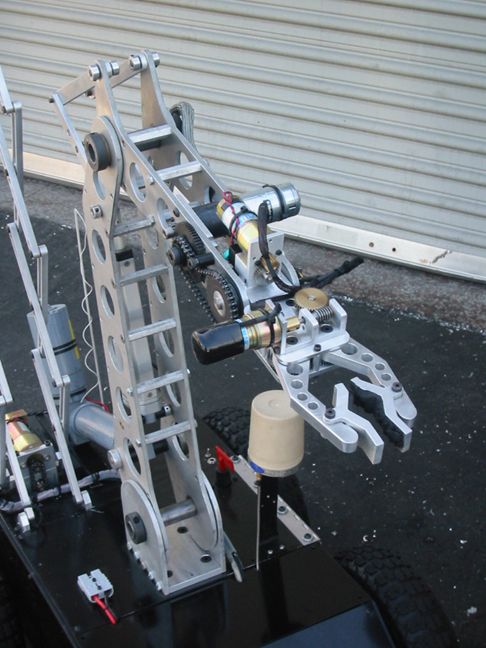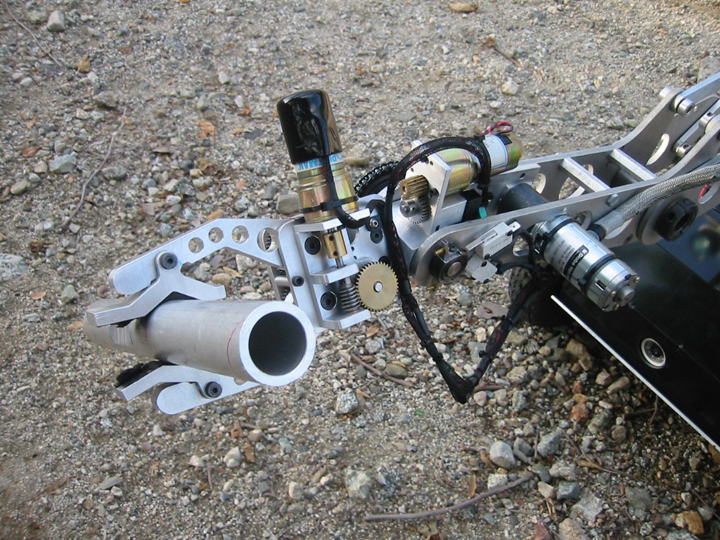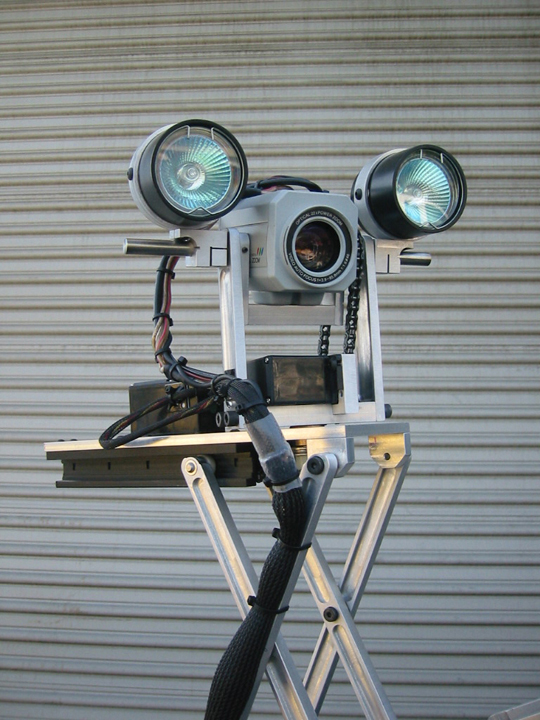 BULLDOG Tactical Robot Specs.
Power:
24 Volt Gel Lead Acid Batteries (2 hours run time)
Weight:
150 lbs
Speed:
6 ft/sec.
Vision:
1 Color 200X Zoom Pan/Tilt Camera

1 Color/B&W Infrared camera

Audio is also transmitted to operator via Microphone

Arm:
Shoulder 120 degrees Elbow 180 degrees Wrist UP/DOWN 180 degrees Wrist rotate 270 degrees Gripper open/close

Reach of 40 inches

Can lift 50 pounds retracted

Can lift 15 pounds fully extended

Can open doors

Scissor Lift:
30 inches of lift for Pan/Tilt/Zoom Camera
Lights:
2 x 40 watt halogen flood lights
This is the MMP-8 robot platform outfitted with a small color camera with a wide angle lens. The video and audio are transmitted via a 900 MHz FM transmitter. The signal is received by a mobile receiver unit with a 6 inch LCD screen. The system has a 2 mile line of sight range. These photos were taken during surveillance mobility tests to see how the passive suspension would affect the camera stability. The results were good but we are now working on a gyro-stabilized camera gimble that will fully stabilize the video image against bumps and vibration. We are also adding and infrared illumination option for video surveillance in total darkness.